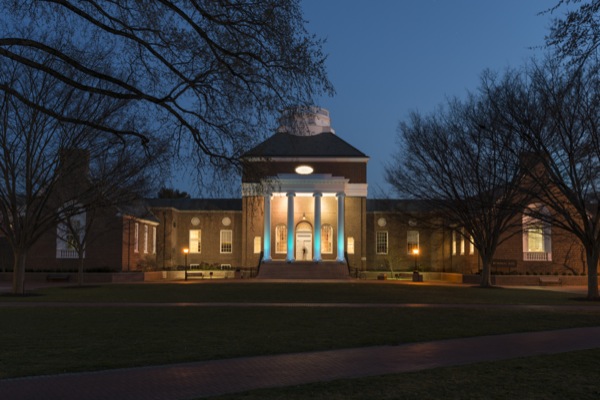 College rankings
UD ranked No. 29 among nation's public universities by U.S. News
3:30 p.m., Sept. 9, 2015--The University of Delaware is ranked 29th among public universities and 75th among all national universities in U.S. News and World Report's Best Colleges 2016 edition.
Joining UD at No. 75 are Clark University, the Colorado School of Mines, Indiana University, Bloomington, Michigan State University, Stevens Institute of Technology and the University of Massachusetts, Amherst.
From graduates, faculty
As it neared time for the processional to open the University of Delaware Commencement ceremonies, graduating students and faculty members shared their feelings about what the event means to them.
Doctoral hooding
It was a day of triumph, cheers and collective relief as more than 160 students from 21 nations participated in the University of Delaware's Doctoral Hooding Convocation held Friday morning on The Green.
Topping the list are Princeton University, Harvard University, Columbia University, Stanford University and the University of Chicago.
The leading public universities are the University of California, Berkeley, the University of California, Los Angeles, the University of Virginia, the University of Michigan and the University of North Carolina.
In other rankings reported by the magazine, UD's College of Engineering is ranked No. 56 for undergraduate engineering programs among those universities that have the doctorate as their top degree, and the Alfred Lerner College of Business and Economics is ranked No. 80 for undergraduate business programs.
Also, UD is ranked No. 62 among best colleges for veterans and is included in the list of A-plus schools for B students.
Factors used to determine the rankings include peer assessment, graduation and retention rates, faculty resources, student selectivity, financial resources, alumni giving and graduation rate performance.
Princeton Review
Last month, UD was recognized in the Princeton Review's The Best 380 Colleges.
The 2016 edition of The Best 380 Colleges recognizes UD as a well-rounded college experience, with students noting that it offers top-notch academics, a stellar Honors Program and diverse undergraduate research opportunities, vibrant campus life and amazing school spirit on a "gorgeous campus."
"The University of Delaware is everything college should be," one student said.
The guide notes that UD offers "the perfect balance of academic intensity and excellent social life" and is within easy reach of major East Coast cities.
The book includes detailed profiles of the institutions with ratings in categories including academics, campus life, admissions and financial aid.
The guide also features lists of the top 20 schools in 62 categories based on the Princeton Review's surveys of 136,000 students attending the universities that were included.
In addition to the general ranking, UD was No. 19 in study abroad. The University launched America's first study abroad program on July 7, 1923, when a group of eight Delaware students set sail for France aboard the ocean liner Rochambeau.
Photo by Evan Krape