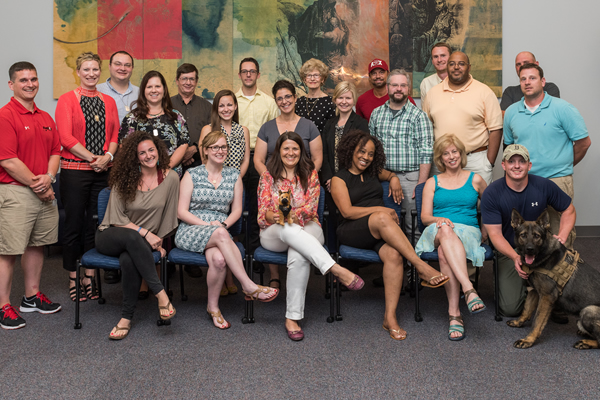 K-9 creativity
UD social media class teams up with Friends of Newark K-9 Officers
9:22 a.m., Sept. 29, 2015--"Going to the dogs" took on a great new meaning when participants in the University of Delaware's Social Media Marketing Strategy Certificate recently paired with Friends of Newark K-9 Officers to work on strategies to increase the group's online visibility and social media presence.
Teaming up with an area nonprofit each semester, class members benefit from the real-time opportunity to apply the knowledge and tools they're acquiring in the program.
From graduates, faculty
As it neared time for the processional to open the University of Delaware Commencement ceremonies, graduating students and faculty members shared their feelings about what the event means to them.
Doctoral hooding
It was a day of triumph, cheers and collective relief as more than 160 students from 21 nations participated in the University of Delaware's Doctoral Hooding Convocation held Friday morning on The Green.
"It was a great experience for us," said Nic DeCaire, longtime supporter of Newark's police dog program, which is completely funded through community donations. "The class really got involved and wanted to see the success of the K-9 fund."
Coming up this Saturday, Oct. 3, is Newark's Main Street Mile, one of the K-9 group's annual fundraising events, now in its ninth year. "I have taken some of the class' ideas to promote this event and registration has been ahead of schedule this year," said DeCaire, event founder and organizer, and owner of Fusion Fitness Center in Newark.
"Working with the class members, we also came up with an idea of creating the K-9 Koncert this past May and raised close to $5,000 for the K-9 Fund," added DeCaire. "The class gave us some amazing ideas to keep the momentum going after the event, and we also used some of their ideas for our August guest bartending event that raised nearly $15,000 this year."
In addition to their active involvement in the social media campaign surrounding the K-9 Koncert, the class worked on such projects as establishing the Friends of Newark K-9 Officers' Facebook account, creating a social media posting calendar, and brainstorming ideas in support of the group's other fundraising efforts.
Class participants applaud the program's hands-on opportunities. "The program gave us first-hand experience in the creation and implementation of a strategic social media campaign and played to the strengths of individual class members, giving everyone plenty of room to grow," commented program graduate Andrew Mitchell, marketing and development coordinator for Cecil College's Milburn Stone Theatre in North East, Maryland, who also works in UD's conference services.
The program has previously worked with Big Brothers Big Sisters of Delaware, Bellevue Community Center in Wilmington and the dropout prevention program Communities In Schools of Delaware.
The Social Media Marketing Strategy Certificate features a team of instructors representing a wide range of expertise in social media marketing and strategy and draws extensively on the University's in-house expertise. Meredith Chapman, UD's director for digital communication, serves as the program director and lead instructor, along with social media manager Holly Norton and Mathieu Plourde, educational technologist. They are joined by Lisa Ford, director of digital marketing for Capital One Bank.
The program continues to seek partnering opportunities with nonprofit organizations in the region that might be interested in working with the next group of certificate participants, willing to discuss their goals and business strategies with the group, and at a developing stage in their social media presence. For details, contact Chapman at continuing-ed@udel.edu.
For more information about the next offering of the Social Media Marketing Strategy Certificate, visit the website or write to continuing-ed@udel.edu.
Article by Nora Riehl Zelluk
Photo by Evan Krape