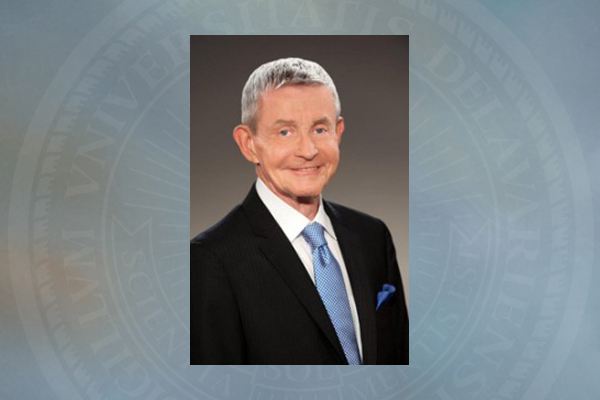 Sept. 9: National Agenda opens
Bill Plante of CBS News opening speaker in National Agenda series
10:12 a.m., Sept. 3, 2015--Bill Plante, CBS News correspondent who covered the civil rights movement, will be the opening speaker in the University of Delaware's National Agenda speaker series on "Race in America: Conversations about Identity and Equality." 
Plante will speak at 7:30 p.m., Wednesday, Sept. 9, in Mitchell Hall on the UD campus in Newark. 
June 5: Blue Hen 5K
University of Delaware graduates planning to attend Alumni Weekend are encouraged to register for the annual Blue Hen 5K walk and run, which will be held Sunday morning, June 5.
June 6-9: Food and culture series
The 20th annual June Lecture Series at the Osher Lifelong Learning Institute at UD in Wilmington will be held June 6-9. Titled 'June a la Carte,' this year's program focuses on great political documents, feminism, world politics and a Newark cuisine sampler.
The presentation, which will be moderated by Lindsay Hoffman, associate professor in UD's Department of Communication and associate director of the Center for Political Communication, is free and open to the public.
Plante covered the civil rights movement in Mississippi and Alabama during the 1960s, including the Rev. Dr. Martin Luther King's historic march from Selma to Montgomery, Alabama. 
He returned to Selma in March 2012 to cover a commemoration of King's historic march.
Plante has been a CBS News White House correspondent during the administrations of Ronald Reagan (beginning in 1981), Bill Clinton, George W. Bush and Barack Obama. 
During the administration of the George H.W. Bush, he was CBS News' State Department correspondent (1989-92). 
Plante's reports are seen regularly on CBS This Morning, where he is senior White House correspondent, and the CBS Evening News with Scott Pelley. 
About the series
The 2015 National Agenda series will include six speakers and four films designed to stimulate conversations about equality and identity, all scheduled at 7:30 p.m. on Wednesdays in Mitchell Hall on the UD campus in Newark. Presentations are free and open to the public.
The film series will begin Sept. 16 with Dear White People, released in 2014 as Justin Simien's first full-length feature. The satire explores racial identity in "post-racial" America while weaving a universal story of forging one's unique path in the world. Simien won the best first screenplay award from the 2015 Spirit Awards and the U.S. dramatic special jury award for breakthrough talent from the 2014 Sundance Film Festival.
The director of the series is Lindsay Hoffman, associate director of UD's Center for Political Communication.
National Agenda is supported by the College of Arts and Sciences, the Office of the Provost, the Center for the Study of Diversity and the William P. Frank Foundation of Delaware.
For details about the series, see the earlier UDaily article.