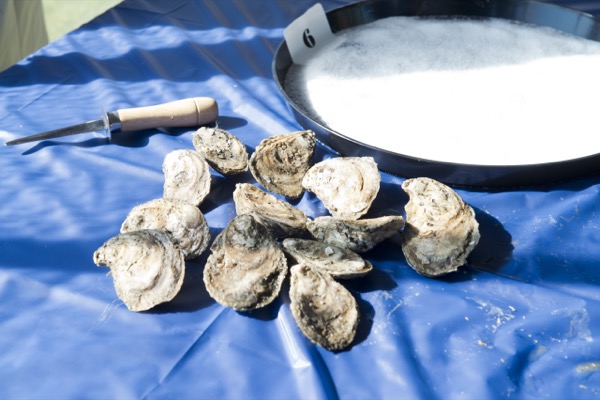 Coast Day oyster shucking
Delawareans invited to compete for swiftest oyster shucking time in Oct. 4 contest
3:17 p.m., Sept. 11, 2015--Shucking oysters has been a commercial staple in coastal communities for more than a hundred years, with approximately 25.52 million pounds of oysters harvested annually on the East Coast, according to the National Oceanic and Atmospheric Administration.
At Coast Day, however, what was once food preparation has now become friendly competition.
From graduates, faculty
As it neared time for the processional to open the University of Delaware Commencement ceremonies, graduating students and faculty members shared their feelings about what the event means to them.
Doctoral hooding
It was a day of triumph, cheers and collective relief as more than 160 students from 21 nations participated in the University of Delaware's Doctoral Hooding Convocation held Friday morning on The Green.
University of Delaware students and other interested participants are invited to register to participate in the third annual Coast Day Oyster Shucking Contest, a contest in which speed and quality are the main concern.
To register, participant must complete an entry form and waiver by Tuesday, Sept. 29.
The event will begin at 3 p.m. at the Food Festival during Coast Day on Sunday, Oct. 4.
Participants will go head-to-head while timekeepers gauge how fast they can shuck a dozen East Coast oysters, provided by the Broadwater Oyster Company. The top two competitors from each round will compete in a final round.
Contestants will be judged on the speed and quality of their efforts, with the winner awarded a $600 cash prize. Second and third-place winners will receive $400 and $200, respectively.
A full rundown of contest rules and regulations can be found here. 
About Coast Day
Coast Day, the College of Earth, Ocean, and Environment (CEOE) and Delaware Sea Grant's premier celebration of the sea, is held annually on the first Sunday in October at UD's Hugh R. Sharp Campus in Lewes. 
The annual education festival and showcase for Delaware's rich marine resources serves to improve understanding of coastal environments and attracts thousands of attendees every year.
Article by Cody Harrington
Photo by Lane McLaughlin