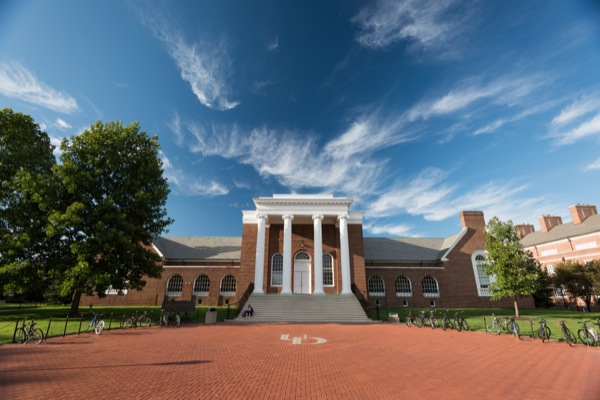 Partnership for change
New UD coalition launches strategic plan to reduce high-risk drinking
2:55 p.m., Sept. 9, 2015--Understanding how to effectively address student alcohol use, especially the increasingly dangerous trends associated with binge drinking, has challenged virtually every educational institution across the country, including the University of Delaware. 
As a result, UD is adopting a collaborative approach to support students' health and well-being that incorporates the efforts of University offices — including Student Life, Student Wellness and Health Promotion and the Office of the Provost — along with students, faculty, staff, a member of the Board of Trustees, Newark business owners, and community and civic leaders. Their efforts are being combined as part of the newly formed Campus Coalition for Alcohol and Other Drug Abuse Prevention. 
From graduates, faculty
As it neared time for the processional to open the University of Delaware Commencement ceremonies, graduating students and faculty members shared their feelings about what the event means to them.
Doctoral hooding
It was a day of triumph, cheers and collective relief as more than 160 students from 21 nations participated in the University of Delaware's Doctoral Hooding Convocation held Friday morning on The Green.
"We know that we increase our capacity to effectively address high-risk drinking among students through partnerships and collaborations at the local and state levels. Our aim is to devise the most effective mix of educational outreach, corrective policies, intervention programs and support to keep students safer and assist them in navigating better decisions," said Vice President for Student Life Dawn Thompson, who co-chairs the coalition with Nancy Chase, director of Student Wellness and Health Promotion. 
A national issue
Statistics from the National Institute on Alcohol Abuse and Alcoholism (NIAAA) indicate widespread alcohol use among college students ages 18 to 24. Four out of five college students drink alcohol and about half of those students engage in binge drinking, which is generally defined as consuming five or more alcoholic drinks in a two to three hour period of time. Researchers estimate that high-risk behavior results in more than 1,800 deaths annually from "alcohol-related, unintentional injuries." 
Schools are observing other disturbing trends as well, including students choosing hard liquor over beer and pre-gaming, the practice of drinking ahead of an event, even if alcohol will be served. 
Perhaps even more alarming than the immediate health implications are the behavioral outcomes correlated with drinking. According to NIAAA's website, "Researchers estimate that each year more than 690,000 students between the ages of 18 and 24 are assaulted by another student who has been drinking" and "more than 97,000 students between the ages of 18 and 24 are victims of alcohol-related sexual assault or date rape."
"Virtually all college students experience the effects of college drinking — whether they drink or not," states NIAAA. "The problem with college drinking is not necessarily the drinking itself, but the negative consequences that result from excessive drinking."
Reducing high-risk student drinking remains a challenge for colleges and universities across the nation. Nationally, binge-drinking rates on college campuses remain above 40 percent, but strategies to address the issue vary, according to a recent article in The Chronicle of Higher Education. 
Setting a strategic course
Embracing the binge drinking challenge head-on, UD's Campus Coalition for Alcohol and Other Drug Abuse Prevention was formed by Provost Domenico Grasso to reduce the high-risk behavior among UD students. 
"We recognize the potential consequences of drinking are both personal and academic," said Grasso. "The rates of binge drinking at Delaware exceed national averages and we must be determined in our focus to curb this pattern. How students handle high-risk situations can dramatically affect the rest of their lives."
Since its launch at the beginning of 2014, the Campus Coalition for Alcohol and Other Drug Abuse Prevention has established monthly meetings, engaged in prevention training, held a strategic planning retreat and developed a three-year strategic plan. Throughout 2015 the group has discussed current UD initiatives and prevention strategies, compared campus and national data related to student drinking and its impacts, and investigated best practices from peer institutions. 
Sally Linowski, associate dean of students for off campus student life and community education at University of Massachusetts Amherst, found success addressing binge drinking through a campus-community partnership at her school, and was selected to lead the UD coalition's strategic planning retreat.
"Underage and dangerous drinking among college students is shaped by many factors, including cultural norms, traditions, density of liquor stores and bars in the local community, low-priced alcohol and advertising, inconsistent enforcement of laws and policies, and lack of alcohol-free recreational and social options," said Linowski.
"To improve safety and quality of life for both campus and community members, a strategic and collaborative approach grounded in evidence-based practice is essential. Coalitions work when the right players — from the community, police, campus, alcohol retailers, students, media, faculty and staff — come together to address the issues with multiple planned initiatives," Linowski explained.
According to its strategic plan, the coalition:  
Provides oversight to ensure that institutional concerns about substance abuse are addressed in a comprehensive manner and that University efforts are modeled after evidence-based practices;
Implements environmental change strategies and advances current, successful alcohol prevention initiatives;
Is a community-wide initiative engaging faculty, staff, students and other stakeholders from the UD and Newark communities in the development of practices that reduce the risks associated with alcohol and other drug abuse;
Serves as an important model for cultivating community leaders who provide visible and vocal leadership for the University's position on the abuse of alcohol and other drugs.
The coalition's strategic plan advocates engaging "the surrounding community in problem-solving approaches" as a means to "building a broad-based coalition" to reduce high-risk drinking. 
"We are proud to be a part of this great opportunity to build bridges between the University and the residents of Newark, and to collaborate on an important aspect of the lives of the students in our community," said Newark Mayor Polly Sierer.
"Safety is of the utmost concern, not only for the University but for the city as well. We want to be at the forefront of educating our students on making safer decisions."
A complete copy of the coalition's strategic plan and a current membership list can be found on the provost's website. 
Article by Jawanza Ali Keita