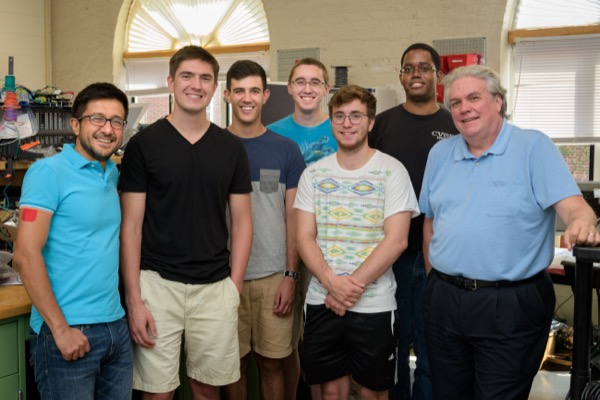 Beyond the classroom
Engineering students gain experience at government laboratory
1:56 p.m., Sept. 15, 2015--Despite the sound of the name, CVORGians are members of a research group at the University of Delaware — not a group of aliens from a distant planet.
Led by Fouad Kiamilev and Chase Cotton, professors in the Department of Electrical and Computer Engineering, the group focuses on energy efficiency, power conversion, and design of complex electronic systems.
'Resilience Engineering'
The University of Delaware's Nii Attoh-Okine recently published a new book with Cambridge University Press, "Resilience Engineering: Models and Analysis."
Reviresco June run
UD ROTC cadets will run from New York City to Miami this month to raise awareness about veterans' affairs.
"We're training students to become successful participants in the 21st century global economy," says Kiamilev, "and we're passionate about undergraduate education."
An important part of that education takes place off campus at the Army Research Laboratory (ARL) in Adelphi, Maryland. Funded by a cooperative agreement, students take monthly trips to ARL, where they gather data, conduct experiments and demonstrate their research work. In addition, two or three students spend the summer as paid interns at ARL.
The cooperative agreement, which was implemented in 2012, also facilitates equipment sharing and provides UD researchers with access to ARL's extensive facilities to conduct experiments.
"Typically, our students continue working on the same research project when they come back to UD," says Kiamilev, "and they often transition into our graduate programs through a 4+1 arrangement."
The cooperative agreement is with the Intelligent Optics Laboratory, which is led by research scientist and program manager Jony Jiang Liu and is a part of the Computational and Information Sciences Directorate at ARL. 
Computer science junior Kevin Jones, who spent the summer of 2015 at ARL, says he values the freedom Liu gave him and his fellow interns in working on their projects.
Jones also found it valuable to work with colleagues in the lab and to learn about the research other students were doing.
Alex George, a senior computer engineering major, appreciated the connection between the summer project and the work done back at UD in the CVORG group. 
"We had free rein of their technology," he says, "and we got to see how our project worked with what the government is doing and how theirs complemented our work."
Kiamilev points out that the internships provide students with an opportunity to experience working as civilian employees of the government. 
"It's much better for them to see whether they like it and make a decision based on a summer internship rather than on a full-time job," he says.
Ben Mazur, a junior majoring in electrical engineering, agrees. 
"ARL is a huge organization with a lot of players," he says. "Security is strict, and the agency is very structured. It was interesting to see that because it's very different from working in an academic environment."
Since 2012, nine UD students have worked as interns at ARL. In addition to Jones, George and Mazur, they include David Koeplinger, Will Maignan, Christopher Jackson, Brian Gonzalez, Jeffrey Volz and Brian Kwon.
"We have 12 to 15 undergraduates in our group at any given time, and I wish we could offer this experience to all of them every year," Kiamilev says. "These internships are a great complement to what the students learn in the classroom, and many of them have already appeared as co-authors on papers and patents growing out of the program."
Article by Diane Kukich
Photo by Evan Krape