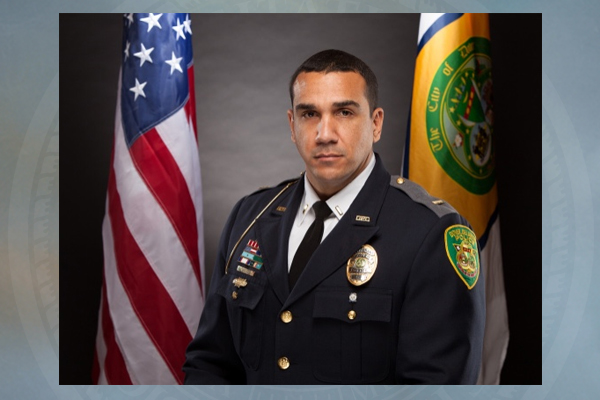 New appointment
Jason Pires named captain in UD Police Department
4:17 p.m., Oct. 2, 2015--Jason Pires, formerly commander of the Special Enforcement Unit with the Dover Police Department, has joined the University of Delaware Police Department as captain, effective Oct. 1.
In making the announcement, UD Police Chief Patrick Ogden said, "Capt. Pires brings a wealth of experience and will be an immediate asset to our department. He served the Dover Police Department for 19 years in a wide range of capacities, including patrol, criminal investigations, special operations and the Drug Enforcement Task Force."
'Resilience Engineering'
The University of Delaware's Nii Attoh-Okine recently published a new book with Cambridge University Press, "Resilience Engineering: Models and Analysis."
Reviresco June run
UD ROTC cadets will run from New York City to Miami this month to raise awareness about veterans' affairs.
"I am really excited to be a part of the University of Delaware Police Department and look forward to working with faculty, staff and students to continue to make the university a safe campus for everyone," Pires said.
At UD, Pires will serve as police operations commander, with overall command responsibility for the department's four patrol squads, Criminal Investigations Unit, Community Resource Unite and SWAT Team. In addition, he will serve as the primary public information officer.
An Air Force veteran, Pires served as a correctional officer with the Delaware Department of Corrections before joining the Dover Police Department in 1996. 
In his most recent post, Pires supervised 48 officers and 12 dispatchers and was involved in planning, administrative and operational functions of the department. He also was responsible for public safety at all major events in Dover, including NASCAR races, the annual Firefly Music Festival and the annual Big Barrel Music Festival. In addition, for the last two years he was head departmental public information officer, serving as the central source of information for media, including social media outreach.
A graduate of the Federal Bureau of Investigation National Academy, he is a Delaware State Police certified instructor and has taught regularly at the Delaware State Police Academy on patrol procedures, officer survival, drug investigations and gang investigations.