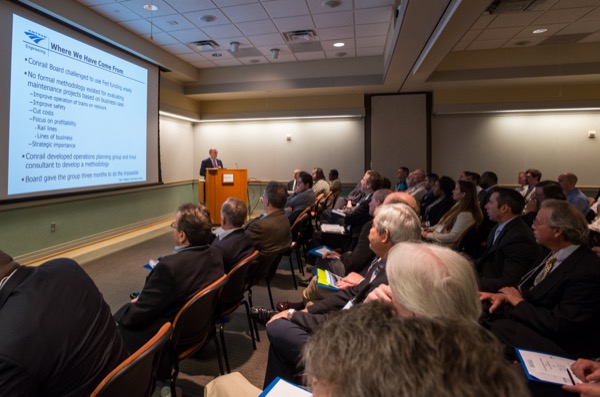 Dec. 9: Engineering mini-conference
Event to address big data in railroad maintenance planning
9:48 a.m., Oct. 21, 2015--A mini-conference, "Big Data in Railroad Maintenance Planning," will be held from 8 a.m. to 4:45 p.m. on Wednesday, Dec. 9, in the Trabant University Center Theatre.
The conference is co-hosted by the Railroad Engineering and Safety Program of the University of Delaware's College of Engineering and UD's Center for Big Data Research and Education. 
Chronic wounds
UD's Millicent Sullivan and Kristi Kiick have received a $1.4 million grant from the National Institutes of Health for research that could provide a new approach to the treatment of chronic wounds.
Prof. Heck's legacy
The American Chemical Society is highlighting the legacy of the late Nobel laureate Richard Heck, the Willis F. Harrington Professor Emeritus of Chemistry at the University of Delaware with a digital tribute on its publications website.
The event will bring together academics and members of the railroad industry from the United States and abroad to address new and emerging techniques for collecting, analyzing and using increasingly extensive and complex data to ensure safe and efficient operation of railways.
The one-day conference will feature keynote speaker Patrick Nowakowski, president of Long Island Railroad, and 22 additional speakers from railroads and universities across the country who will address both the needs and challenges faced by the industry and the emerging solutions.
Rail companies deploy state-of-the-art technology to continuously monitor the condition of tracks for defects that could pose safety and transportation problems. These companies are now challenged with making sense of mounting volumes of data.
Big data tools allow professionals to analyze information in huge volumes, so that they can make better forecasts in large and complicated systems like railways. Such techniques include new and traditional types of statistical analysis, along with computer engineering models.
Program organizers include Allan Zarembski, professor and director of UD's Railroad Engineering and Safety Program, and Nii Attoh-Okine, professor and director of the Big Data Center.
There is no charge to attend the conference, but registration is required. Visit the website for more information.
Photo by Kathy F. Atkinson