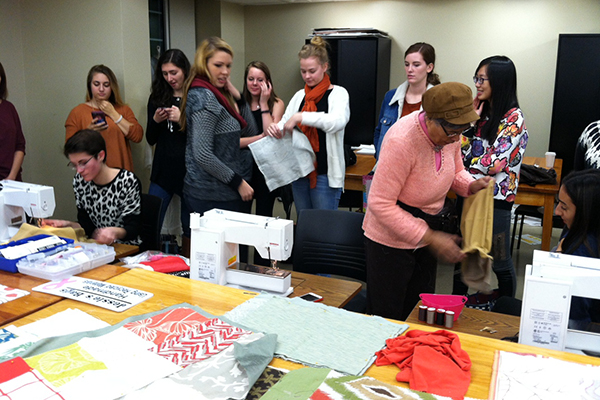 Jessie's Bags
Students organize sewing event to help Delaware nonprofit
9:40 a.m., Nov. 24, 2015--Two seniors in the University of Delaware's Department of Fashion and Apparel Studies recently organized a sewing event in which they and other students helped manufacture tote bags for a local nonprofit that donates them to cancer patients and survivors.
Jill Silverman of New Freedom, Pennsylvania, and Megan Blissick of Claymont, Delaware, led the event as an honors project. It benefited Jessie's Bags, an organization founded by Jessie Moore in Wilmington, Delaware, to create one-of-a-kind tote bags for patients.
'Resilience Engineering'
The University of Delaware's Nii Attoh-Okine recently published a new book with Cambridge University Press, "Resilience Engineering: Models and Analysis."
Reviresco June run
UD ROTC cadets will run from New York City to Miami this month to raise awareness about veterans' affairs.
Moore, 86, is a three-time breast cancer survivor who started making the bags nine years ago to cope with her own diagnosis. She uses the skills she developed during more than three decades of working in a sewing factory making children's clothing to create the unique designs from recycled and leftover materials.
Blissick and Silverman organized the event at UD in conjunction with two registered student organizations, Sew Baby Sew and the Fashion Merchandising Club. Participants learned to cut and sew bags for the organization, and some volunteers also worked with Moore's daughter, who manages the organization, to create an Etsy page to expand its online operations.
Jessie's Bags sells some of its items at the Booths Corner Farmers Market in Garnet Valley, Pennsylvania, and online to cover operating costs. Last year, with the help of volunteers, it donated 100 bags each month to breast cancer survivors.
Blissick and Silverman described the project as an incredible chance for students to learn the inner workings of a small, nonprofit organization while helping with its work. 
The Fashion Merchandising Club, which is open to students of all majors, strives to increase student knowledge about fashion across campus and promote networking within the fashion industry. Sew Baby Sew is dedicated to encouraging sociability and creative expression through fashion by designing adaptive, accessible apparel for children with physical disabilities or special clothing needs.