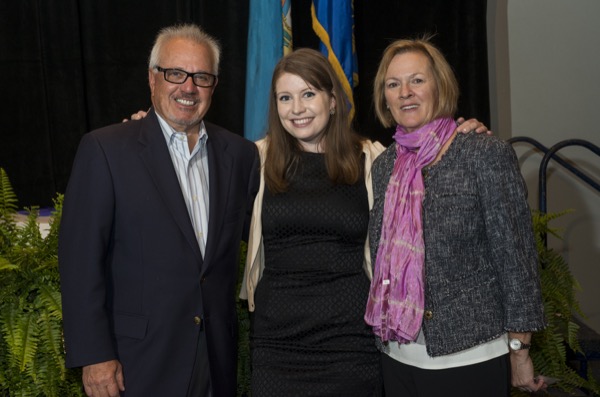 Kellogg's career
UD graduate Jenna Byers finds career with Kellogg's
11:32 a.m., Nov. 2, 2015--As an undergraduate at the University of Delaware studying food and agribusiness marketing and management (FABM) in the College of Agriculture and Natural Resources, Jenna Byers was able to learn about food retailing, customer behavior and how to analyze the best sales strategies for particular markets. 
Byers also worked as the marketing manager for the UDairy Creamery, which gave her hands-on experience in business and marketing. 
'Resilience Engineering'
The University of Delaware's Nii Attoh-Okine recently published a new book with Cambridge University Press, "Resilience Engineering: Models and Analysis."
Reviresco June run
UD ROTC cadets will run from New York City to Miami this month to raise awareness about veterans' affairs.
It was with these tools in hand that Byers was able to get a job with Kellogg's as a senior customer analyst directly after graduating from UD. 
Now in her second year with the company, Byers has recently been promoted to account executive, a job that allows her to travel up and down the East Coast as she supports the Baltimore, Washington and Philadelphia area wholesale accounts — such as Redner's Markets and Farm Fresh Supermarkets — for the company. 
Byers works with snacks for Kellogg's and manages the company's portfolio of products such as Cheez-It and Keebler cookies for those wholesale accounts. She said her job is made up of responsibilities that she learned about while an undergraduate at UD. 
"In the FABM program, we took a lot of classes about food retailing and consumer behavior, and that's pretty much exactly what I'm doing at Kellogg's – looking at the customers and the markets and figuring out what the best sales are and what the best ways to reach those consumers are," said Byers. "It's great because a lot of it lines up with exactly what I was learning from Dr. Ulrich Toensmeyer, Dr. John Bernard (both professors of applied economics and statistics) and the classes there." 
Toensmeyer said of Byers, "If you're looking for a role model, someone to represent the FABM program, she would be it. Her enthusiasm, her passion and her work ethic, you put them all together and that's Jenna." 
In her previous role at Kellogg's as a senior customer analyst, Byers said she would perform shipment tracking and return on investment analysis, where she would look at the most effective price points for certain products. "It's looking at what people buy and what the best prices are," said Byers. 
In her new role as an account executive, Byers said that because most of the stores are already carrying well-known products like Cheez-It, she is mostly involved with selling new items, such as a new flavor of Cheez-It or a new cookie or flavor of Nutrigrain or Special K bar. 
Of her favorite part of the job, Byers said it would be the opportunity to work with such a well-known company. "The brands that we have are definitely family brands, they are brands that people know, so it's fun to sell," said Byers. "It definitely makes the day interesting and when you walk in and you're selling Cheez-Its and cookies and things like that. It makes the job more fun." 
UD experience
In addition to her time in the FABM program, Byers said that working at the UDairy Creamery as an undergraduate was an excellent learning experience. 
"Since it is student run and faculty supported, we really got to have a lot of say in what was going on. We could try out different ideas, so a lot of the things that I learned about how to sell and how to market products and reach consumers are things that I've been able to replicate here, and really kind of hit the ground running," said Byers. 
Byers was also helped along the way at UD by receiving the Charles and Patricia Genuardi Scholarship. 
Byers said that receiving the scholarship from someone like Charles Genuardi – who graduated from UD in 1970, was inducted into the UD Alumni Wall of Fame in 2005 and served as chairman, president and CEO of Genuardi's Family Markets from 1990 until the family sold the business to Safeway Inc. in 2001 – and Patricia Genuardi was a double bonus as it helped her not only financially but also gave her great mentors as she started her career. 
"Having that relationship with Mr. Genuardi and Mrs. Genuardi, they were mentors for me through my time at UD and they continue to be now that I've been out in the real world," said Byers. "He has been and still is very successful in the grocery industry and that's where I made my home career-wise. I've been able to, both when I was in school and now, reach out to him and get his feedback. It has been great for me to have him as a mentor, somebody that I can bounce ideas off." 
Article by Adam Thomas
Photo by Kathy F. Atkinson