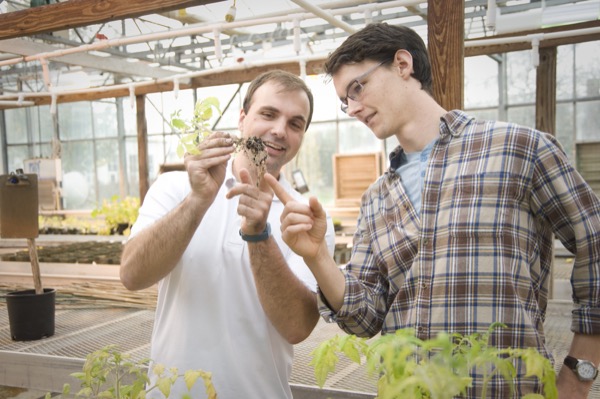 Solving agricultural issues
Mentorship, out-of-classroom experiences shape success for UD student
8:21 a.m., May 10, 2016--Swatting flies and riding shotgun on hot summer days with a University of Delaware Extension specialist, traversing acres of farm fields across the state and working in an outdoor classroom with a faculty mentor made a difference in the college experience of Chris Ramage, who will graduate this month from UD's College of Agriculture and Natural Resources (CANR) with a double major in plant protection and plant science.
As Ramage turns his attention to graduate school, he credits the personal attention received from CANR faculty and the diverse opportunities extended to him to work on and solve real agricultural issues during his four years at UD.
'Resilience Engineering'
The University of Delaware's Nii Attoh-Okine recently published a new book with Cambridge University Press, "Resilience Engineering: Models and Analysis."
Reviresco June run
UD ROTC cadets will run from New York City to Miami this month to raise awareness about veterans' affairs.
In 2015, Nathan Kleczewski, Extension specialist and plant pathologist, hired Ramage as in intern to work on several projects across the state. Kleczewski relished his role as mentor. 
"Chris has a great future in front of him in the field of plant pathology and plant science and I wanted to ensure that he was exposed to a diversity of experiences in plant pathology, both in the lab and the field," Kleczewski said. 
At CANR, Ramage selected a double major in plant science and plant protection and found the college's faculty eager to arrange opportunities and receive a breadth of varied, practical field experiences.
Ramage's interest in plant diseases was fostered by an Introduction to Plant Pathology course taught by Tom Evans, professor in the Department of Plant and Soil Sciences (PLSC). Ramage also worked at the United States Department of Agriculture (USDA) beneficial insect laboratory on campus since his freshman year, but realized that he wanted more plant disease experience and started working with Kleczewski. 
"We got along very well. I was impressed by how much work he was getting done while getting his own lab started, and the number of hours he spends on the road in the car visiting farms. He taught me something new almost every day, definitely every week. Nathan gave me exposure to a wide variety of crops and pathogens. The breadth of experiences I gained was very impressive," said Ramage, who was specifically looking for hands on experience with fungal pathogens and in the area of plant pathology.
A summer of pathology projects
Throughout the summer, Ramage and Kleczewski traversed the state, with the majority of time spent doing agronomic field trials at UD's experimental station located at the Elbert N. and Ann V. Carvel Research Education Center in Georgetown. 
One project focused on Fusiarium head blight (FHB) caused by the fungal plant pathogen Fusiarum graminearum. FHB seriously affects wheat yields and the fungus produces a mycotoxin. Mycotoxins are toxic micro-organisms that can enter livestock feed or human food supplies. Consuming mycotoxins may result in a weakened immune system, compound existing health problems, or result in death in humans or animals.
Traditionally a chemical application is made to wheat slightly before flowering to offer protection from the disease. However in order to reduce FHB, a later application made at flowering is becoming a more common practice. 
Ramage and Kleczewski investigated the efficacy of these new fungicide timings and their potential for increasing yields in a Mid-Atlantic production system. A two-year study was started in 2015 and Ramage collected disease severity data over the summer.
Soybean cyst
Another project focused on controlling the soybean cyst caused by root knot nematodes — microscopic, parasitic worms that feed off the roots of soybean plants, seriously affecting the crop's yield. They prefer moist sandy soils, which makes them a big problem in Delaware where soybeans represent the state's second largest crop with 175,000 acres planted annually. 
The female nematode inserts its stylet, a spear-like mouth, into the root system, and carries out its life cycle inside the plant root, causing cysts at the point of entry, each the size of a grain of sand. A female may lay between 200-500 eggs within a single cyst, forming characteristic knots. 
Since some fungicides have shown promise in deterring nematode activity, Kleczewski and Ramage conducted a field trial to evaluate the effect of different seed treatments on control of soybean cyst nematodes. 
A 56-plot field was set up in Georgetown and during the growing season Ramage took soil samples from each of the 56 plots and brought them to the Newark lab for processing. Samples were taken at planting, and at one- and two-month intervals after planting in order to quantify any effects the treatments had on soybean cyst nematode populations over the growing season.
As a supplemental dataset, Ramage replicated the field study in the Fischer Greenhouse using single soybean plants in containers, inoculating all the containers with a uniform number of soybean cyst nematode eggs.
Ramage also worked with a fungus of corn called Fusarium verticillioides, which unchecked can reduce yield and produce mycotoxins which can lead to serious financial losses for farmers. 
Stink bugs
Kleczewski was also part of a study designed to determine if brown marmorated stink bugs (BMSB) feeding on corn increased disease incidence and the amount of mycotoxin in corn.
For this study, Ramage set up the field site, made F. verticillioides spore solution, acquired BMSB adults, and applied the BMSB and spore solution in varying combinations as called for by the treatment plan. He then monitored BMSB mortality over the course of one week on any corn ears to which the insects were applied. This data would later be used to quantify the feeding pressure on individual corn ears. 
During the study, Kleczewski arranged for Ramage to visit his colleague, Hillary Mehl, Extension specialist with the Virginia Tech Tidewater Agriculture Facility in Suffolk, Virginia. 
"I got to visit for a week and learn many basic molecular techniques, such as DNA isolation, and mycotoxin extraction from grain samples," Ramage said. 
In addition to the experience and networking, Ramage was able to publish.
"Chris was able to use what he learned to develop a fact sheet on mycotoxins in corn that will be used regionally for Extension purposes," Kleczewski said.  
Ramage also helped author a plant disease management report, a refereed publication of the American Phytopathological Society, and he is now headed to the Penn State University program as a doctoral student in plant pathology
At Penn State, Ramage will work on a pathogenic bacterium of the genus Dickeya, which causes black leg in potatoes. 
As he looks ahead to the five or six-year commitment, Ramage said he feels well prepared for the significant workload and thankful for the advice and guidance Kleczewski provided him throughout the process.
Ramage plans to use his education to further international development and is considering a career that combines research and Extension. The biggest problem Ramage see, is simply being able to feed people.
"Agriculture is big business in developing countries because that is what the majority of the population does. It is the steppingstone to a higher standard of living," said Ramage. 
Ramage sees plant pathology as a pathway to many topics, including feeding a burgeoning world population. 
"We have it pretty good over here. It's nice if you can find a way to use your work to improve the lives of those who don't have it so great," Ramage said, adding, "It is important for us to care more about how our food is produced and to understand the good production practices many farmers employ in order to make informed decisions. Younger generations can bridge that knowledge gap. We can certainly make things better."
Article by Michele Walfred
Photo by Wenbo Fan