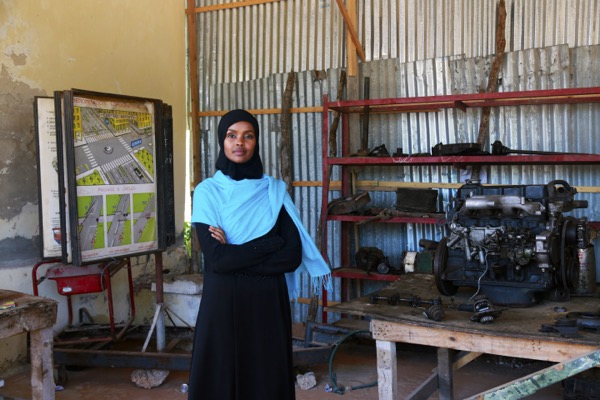 Champion of change
UD Mandela Washington Fellow honored for human rights work in Somalia
3:05 p.m., March 8, 2016--No two days are alike for Ilwad Elman, a 2014 University of Delaware Mandela Washington Fellow and winner of both the Harvard Gleitsman International Activist Award and the Oxfam America Right the Wrong Award.  
Elman, director of programs and development at the Elman Peace and Human Rights Centre in Somalia, joins the ranks of the most prominent advocates in the world. The Gleitsman Award, bestowed upon Nelson Mandela in 1993, is given biennially to those who have committed their lives and inspired others to improving quality of life around the globe. 
Fulbright awards
Three University of Delaware students and an alumna have received word this spring that they will travel abroad as part of the newest class of Fulbright Student Program award winners.
Peace Corps plans
Two University of Delaware students, John McCarron and Bridgette Spritz, have been selected as Peace Corps volunteers and will serve in Ghana and Rwanda.
"It was a tremendous honor," said Elman. "Accepting the same award as people I greatly respect and have looked up to for much of my life was surreal." 
She added that the experience gave her a renewed sense of commitment to the work she so passionately pursues. "Working in conflict and bearing witness to human suffering every day is not an easy feat… It is encouraging to be recognized for your work by your peers."
Elman's mother, Fartuun Adan, founded the Elman Peace and Human Rights Centre after the death of Elman's father, a renowned peace activist, during the height of the Somali Civil War. The organization seeks to defend and protect human rights, and to promote a peaceful co-existence of the Somali people.
More than 70 percent of Somalia's population is made up of youth who have lived their entire lives in a country at war. "My goal is to create real, transformational change in my slice of the world," Elman said. "I envision a Somalia where youth have a better future, with increased income-generating opportunities resulting in improved living standards."
This, she said, will reduce conflict between communities and give youth ownership over their futures. 
The Elman Centre's rehabilitation and reintegration programs have been replicated by other organizations both in Somalia and beyond.
Elman and her organization also advocate for women's rights and work daily toward the goal of a society that supports their basic needs, safety, quality health services, education and dignified economic opportunities. 
In fact, Elman said she believes that women are at the heart of a solution to the country's years of conflict.
"I envision a Somalia where communities are healed and peace is built through dialogue, forgiveness and reconciliation for a peaceful transition...Ultimately, my vision is to have women lead these processes towards a more enabling and progressive Somalia."
In addition to her work with the center, Elman has also helped her mother build Sister Somalia, the first rape crisis center in Mogadishu, and co-chairs a number of coordinating bodies and working groups on human rights, gender-based violence, service delivery and child protection throughout the country.
On March 8, in honor of the United Nations' International Women's Day, Elman was awarded the Oxfam America Right the Wrong Award in Washington, D.C. This award came as recognition of her pursuit to create lasting change in the sphere of women's rights.
Of her time as a Mandela Washington Fellow at UD, Elman said she grew from opportunities to connect, foster partnerships and generate new ideas with other like-minded people, whether they were from Africa or the United States.
"Prof. [Gretchen] Bauer arranged for our group to visit local organizations working on challenges of the inner city communities of Wilmington, Delaware, and Camden, New Jersey," she said.
This program allowed the fellows to draw connections between these challenges and those occurring in Somalia and elsewhere on the continent. "Where there are shared challenges ... there is opportunity for greater convergence to tackle issues with global solutions," Elman said. 
From the onset, Elman added, fellows were asked an open-ended question that would be answered through personal growth, networking and the abundance of resources available during the program. 
"We really had to dig deep and take account of the factors that were hindering us from reaching our potential," Elman said, adding that this has allowed her to refocus her strategy to not only be reactive but also proactive in establishing a mainstream environment in which rehabilitated youth can thrive. 
The program, she said, was also a unique opportunity for Americans to delve into the true identity of Africa and its nations. "For many, for a long time, the first thing people associated with Somalia was war, piracy, and the film Black Hawk Down. I believe it is so important to change the global narrative about Somalia … and promote the positive developments that are also happening."  
Elman's reference to Black Hawk Down draws another link to UD, as Mark Bowden, author of the book on which the movie was based, is serving as UD's Distinguished Writer in Residence.
Elman offers the following advice to future Mandela Washington Fellows: "Dedicate your full time and attention to the fellowship while you are there." Allowing herself to take a step back and invest in herself meant moving forward with new energy and skills for the future.
About the Mandela Washington Fellowship 
In June 2016, UD's Institute for Global Studies will welcome its third class of Mandela Washington Fellows. The flagship program of President Barack Obama's Young African Leaders Initiative (YALI), the Mandela Washington Fellowship empowers young African leaders through academic coursework, leadership training, mentoring, networking, professional opportunities and support for activities in their communities.
Working closely with the U.S. Department of State's Bureau of Educational and Cultural Affairs and its implementing partner, IREX, host institutions have designed academic programs that will challenge, inspire and empower these aspiring young leaders from Africa.
About the Institute for Global Studies
The Institute for Global Studies was created in 2009 to enhance the international dimensions of teaching, research and outreach at the University of Delaware. IGS provides leadership and support for programs and experiences that contribute to the education of informed, skilled, open-minded citizens of the world.
Best known for coordinating the University's study abroad program, IGS also awards scholarships and grants to faculty and students for a number of global opportunities, and administers internationally-recognized State Department-sponsored programs such as the UD Fulbright Initiative, Middle East Partnership Initiative (MEPI) Student Leaders Institute, Mandela Washington Fellowship Program for Young African Leaders, and most recently the Study of the U.S. Institutes for Student Leaders on Women's Leadership (SUSI-WL) program.
IGS sponsors such signature events as Global Month each fall and country-specific celebrations each spring.
IGS collaborates with other global partners on campus, including the Office for International Students and Scholars, the Confucius Institute and the Center for Global and Area Studies. In addition, IGS partners with Enrollment Management to coordinate the UD World Scholars Program.
Article by Nikki Laws