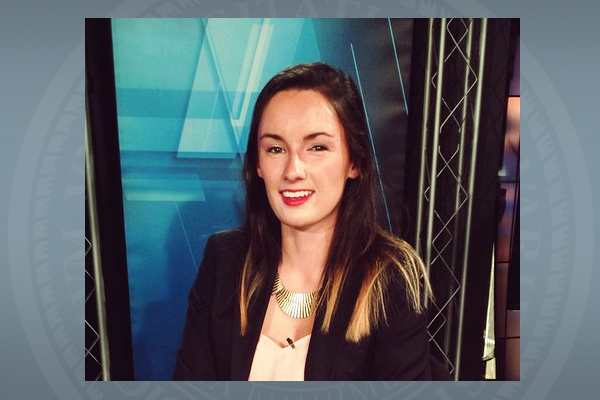 STN, Horn collaborate
Horn Program, Student Television Network to produce live webcast of YES!
11:16 a.m., March 24, 2016--The Horn Program in Entrepreneurship is collaborating with the University of Delaware's Student Television Network (STN) to produce a live webcast of the Youth Entrepreneurship Summit (YES!). 
YES! is a day-long conference for high school students interested in innovation and entrepreneurship, and features interactive workshops, engaging speakers and networking opportunities for attendees. 
From graduates, faculty
As it neared time for the processional to open the University of Delaware Commencement ceremonies, graduating students and faculty members shared their feelings about what the event means to them.
Doctoral hooding
It was a day of triumph, cheers and collective relief as more than 160 students from 21 nations participated in the University of Delaware's Doctoral Hooding Convocation held Friday morning on The Green.
Not only will STN assist in the filming and streaming of the event, but some of its members will also work as hosts of the event. Janelle Bentley, Patrick Murphy and Joanne Koshy have been selected as hosts and will interview students attending the conference as well as talk about the Diamond Challenge, a venture concept competition developed by the Horn Program for high school students.
The three hosts come from a variety of majors and minors. Bentley, a senior, is a mass communication major and theatre performance and advertising minor. Murphy, a sophomore, is also a mass communications major, but minors in journalism. Koshy, a junior, is a criminal justice major and journalism minor.
Horn Program media production intern Jordan McBride, a junior international relations major and journalism minor, will oversee the entire production of the livestream. Working alongside Meg Marcozzi, manager of marketing and events at the Horn Program, she interviewed dozens of students to find the perfect hosts for the event. 
"YES! is really all about bringing students together to celebrate how much potential they have," McBride said, "so it's great that this component is being run mostly by students."
The summit is part of the Horn Program's Paul and Linda McConnell Youth Initiative, which aims to inspire the next generation of entrepreneurs by providing world-class educational experiences centered on creativity, innovation and action-oriented programming.
Also featured at the summit is the final round of the Diamond Challenge, a venture concept competition for high school entrepreneurs in which students compete for more than $50,000 in awards. Currently in its fourth year, the Diamond Challenge has attracted more than 1,000 students from 17 states and 17 countries around the world. 
YES! will take place on Friday, April 15, at Clayton Hall. The event is open to all high school students, educators, and community members. Early bird registration is $20 per person through Thursday, March 31. After that date, tickets will rise to $35 per person. 
The livestream of YES! will begin at 8:30 a.m. on the day of the conference on the Diamond Challenge website. The livestream is possible thanks to this year's technology sponsor, Capital One. 
To register for YES!, visit the website.