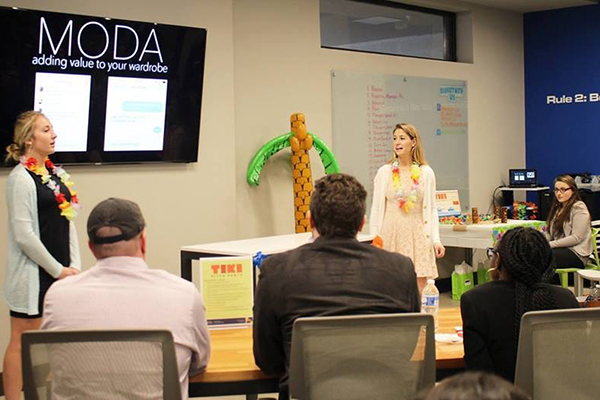 Horn pitch party
UD student entrepreneurs present innovative business startup ideas
9:55 a.m., March 23, 2016--The University of Delaware's Horn Program in Entrepreneurship helped students to pitch without "going up in flames" at the recent Tiki Pitch Party.
Tiki, which stands for "Today's Ideas Kickoff Innovation," promised a night filled with unique and impressive business concepts.
From graduates, faculty
As it neared time for the processional to open the University of Delaware Commencement ceremonies, graduating students and faculty members shared their feelings about what the event means to them.
Doctoral hooding
It was a day of triumph, cheers and collective relief as more than 160 students from 21 nations participated in the University of Delaware's Doctoral Hooding Convocation held Friday morning on The Green.
This tropical-themed edition of the Horn Program's annual spring pitch competition put the fun into startup pitching, with 20 teams of UD students presenting their business ideas to a live audience and panel of accomplished judges in a fun, relaxed and welcoming environment.
"The party included a casual environment with many like-minded people," said Seraphina Cromwell, one of the night's presenters. "It's just a very friendly and supportive event that has helped me improve my business pitch."
The event included a buffet, a photo booth and colorful leis for all the guests to wear.
Winner Maria Gorecki, an Honors Program student, was awarded $1,000 in Venture Development Center (VDC) cash to be used toward the development of her company, Rain.
"Winning the pitch competition was incredible," Gorecki said. "It is truly humbling to see how many people supported our cause and believed in our solution. I cannot wait to see what the future holds for Rain, and all the growth we will experience thanks to the Horn Program's funding."
Rain is a monthly subscription-based service that sends boxes to girls aged 8-13 in order to grow their self-confidence at a pivotal point in their lives. Each subscription includes an online website, monthly fun activities and trinkets designed to maximize Rain's empowerment message.
The judges were so impressed with all of the pitches that they opted to hear from the top six presenters, rather than the top five, before the final round of deliberation.
After the initial 20 pitches, a second round of pitching occurred, during which the top teams had to convince not only the judges, but the audience as well, as to why their idea was better than that of their competitors. The audience was able to vote on their favorite among the final six teams, and that poll helped the judges choose the winners.
Ultimately, second and third place went to Emma Lynch and Palina Ivanova with MODA, and Adam Breese and Gordon Lippincott with Audonate, respectively.
MODA is an application that was designed to streamline the borrowing and lending of clothes in a local setting.
Audonate is a platform that makes it easier for users to donate money to their favorite charities and nonprofits.
"Overall, the outcome of the pitch competition has inspired us to continue innovating, pitching and networking at a higher level as we hope to further develop our idea into a reality," Ivanova said.
Breese of Audonate was equally as impressed with the Tiki Pitch Party environment.
"We were able to connect with the audience deeply in a fun, intimate setting, and this is a rare experience for entrepreneurs," he said.
"Most people think of entrepreneurs as risk-takers, which we are, but that doesn't mean we don't try to mitigate as much risk as we can," he continued. "The Tiki Pitch Party provided the perfect opportunity to give budding entrepreneurs practice with an extremely intense and high-stakes necessity – pitching our ideas – in an unbelievably low-risk, high-reward environment."
Jackie Anninos, host of the night's event and special program assistant for the Horn Program, called the event a success.
"It is these kinds of events that make me so proud to be part of the Horn Program in Entrepreneurship," she said. "With another record-breaking turnout, students truly showcased their passion by pitching with poise and gaining valuable feedback from their peers."
The pitches were evaluated by a the panel of accomplished judges:
John Himics, partner and CTO of First Ascent Design, advisory board member of Deltech Business Technologies;
Ashley Paintsil, UD fashion merchandising, journalism and entrepreneurship alumnus, co-owner and marketing director of Simply Julia Totes; and
Jim O'Donoghue, co-founder of Grain on Main, who ran marketing for large clients such as the NFL, MLB and NHL, and taught presentation skills at Bank of America.
Ivanova also was impressed with how receptive the judges were to helping the night's presenters.
"We were able to make great connections with the judges. In fact, we plan to meet with Ashley Paintsil next week and discuss the possibility of us getting in touch with the CEO of Poshmark… This would be an incredible opportunity," she said.
Dan Freeman, Horn Program director, was a big fan of the event, as well.
"The pitch competitions are a personal favorite because there is always so much passion and energy in the room," he said. "I'm continuously impressed by the students who run these events and the students who pitch."