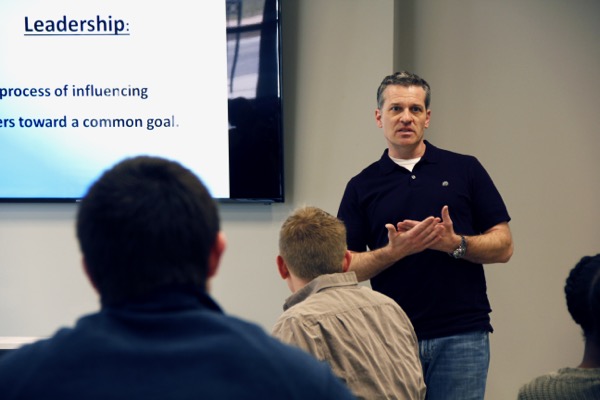 First Horn grad director
Horn Program in Entrepreneurship appoints first director of graduate programs
9:41 a.m., March 10, 2016--The University of Delaware's Horn Program in Entrepreneurship has named Anthony Middlebrooks as its first-ever director of graduate programs. Middlebrooks will formally begin his new role on Thursday, Sept. 1. 
"Dr. Middlebrooks is an award-winning teacher, an accomplished scholar and one of the most dynamic and entrepreneurial faculty members I've had the pleasure to work with," said Dan Freeman, director of the Horn Program. 
'Resilience Engineering'
The University of Delaware's Nii Attoh-Okine recently published a new book with Cambridge University Press, "Resilience Engineering: Models and Analysis."
Reviresco June run
UD ROTC cadets will run from New York City to Miami this month to raise awareness about veterans' affairs.
"I'm excited that current and future Horn graduate students will have the opportunity to benefit from his leadership skills and expertise in creativity, design thinking and social entrepreneurship."
Middlebrooks has taught for the Horn Program since 2014, and previously worked with UD's Organization and Community Leadership Program. 
While with the Horn Program he has assisted with the development of the master of science degree in entrepreneurship and design (MS ENTD) program, and led the development of a new undergraduate minor in social entrepreneurship.
Middlebrooks teaches courses in applied creativity and innovation, leadership and social entrepreneurship. His current research interests focus on methods of leadership education and the integration of leadership, creativity and design thinking.
"Dan and his team continue to create a culture of innovation and amazing opportunities for students," Middlebrooks said. "I am thrilled to join them and contribute to this important work."
About the MS ENTD Program
The 11-month MS ENTD program includes interdisciplinary experiential courses focused on entrepreneurship, creativity, design, prototyping and new product development. 
Courses are augmented by enrichment opportunities such as funding competitions, mentoring programs, networking events and a variety of useful resources. 
Students interested in applying to the MS ENTD program can meet Middlebrooks during an information session on Tuesday, March 22, from 4:30 to 5:30 p.m., in the Venture Development Center at 132 E. Delaware Avenue. Those who plan to attend should RSVP to the Horn Program.
The priority deadline for applying to the MS ENTD program is Thursday, March 31. 
About the Horn Program
The University of Delaware Horn Program in Entrepreneurship ignites imaginations and empowers world changers through entrepreneurial education. 
The program's offerings emphasize experiential learning, evidence-based entrepreneurship and active engagement with entrepreneurs, business leaders and members of the broader entrepreneurial ecosystem. 
Participation in Horn Program courses and co-curricular activities provides students with the knowledge, skills, connections and access to resources needed to create, deliver and capture value from new ideas and thrive in a rapidly changing world.