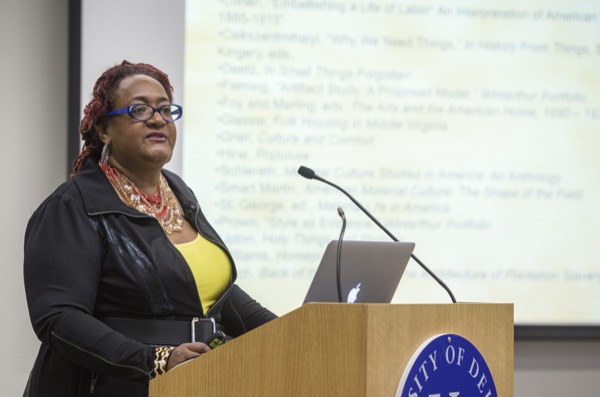 'How Sweet the Sound'
Scholar delivers inaugural lecture in African American material culture series
3:48 p.m., March 8, 2016--Music played an important role in the lives of many 19th century American families, when having a piano in the parlor was seen as a symbol of middle class refinement and respectability that went "hand in hand with genteel womanhood" — and African Americans were no exception to this view.
That observation was made by internationally renowned scholar and author Psyche Williams-Forson during a talk titled "How Sweet the Sound: African American Performances of Class and Citizenship Using the Piano," which she delivered March 1 at the University of Delaware. 
'Resilience Engineering'
The University of Delaware's Nii Attoh-Okine recently published a new book with Cambridge University Press, "Resilience Engineering: Models and Analysis."
Reviresco June run
UD ROTC cadets will run from New York City to Miami this month to raise awareness about veterans' affairs.
Hosted by UD's Center for Material Culture Studies, the event was the inaugural lecture in the new African American Material Culture and Public History speaker series.
Williams-Forson is professor and chair of American studies and an affiliate professor of women's studies and African American studies at the University of Maryland. A founding scholar in the field of food studies, she is the author of the award-winning book Building Houses Out of Chicken Legs: Black Women, Food, and Power.
In her talk at UD, Williams-Forson analyzed the material culture of African American homes in the 19th and early 20th centuries, focusing on the symbolism behind owning a piano in its relation to larger issues of equality and economic freedom. She discussed class tensions and how people throughout U.S. history have measured their citizenship through definitions of materialism and economic freedom.
African Americans worked hard to obtain luxury goods, such as the piano, for reasons much larger than just "trying to be equal" to their white counterparts, Williams-Forson said. Materialism was critical to the fulfillment of citizenship and equality, she said, discussing such issues as the difference between owning and playing the piano, and the work ethic that was put into owning one.
In describing her own scholarly career path, William-Forson told the audience that she entered graduate school in the early 1990s, a time of resurgence in the field of African American women's studies. While studying literature, she became intrigued by depictions of the lives of African American women in the 19th century, by the roles they played in society and by the material culture that was often described in great detail in novels and other literary works.
She said she began focusing her scholarship on an essential question in the field of material culture: Why do we need things? She also saw a lack of research into the material culture of people of color, the working class and Southerners, all of which inspired her own work.
In answer to a question from the audience, Williams-Forson cited a continuing need for research in certain aspects of material culture, not just African American but also Latino and Afro-Cuban culture, for example. While they may be less well-cataloged, such areas of material culture are documented in various archives and can be located and explored by persistent scholars, she said.
"This stuff is all around us," she said. "It's just begging for us to take the time to analyze it."
The lecture was supported by the Center for Material Culture Studies, the College of Arts and Sciences and the UD Library. A video recording of the lecture is available here.
Article by Christopher Razzano and Ann Manser
Photo by Kathy F. Atkinson