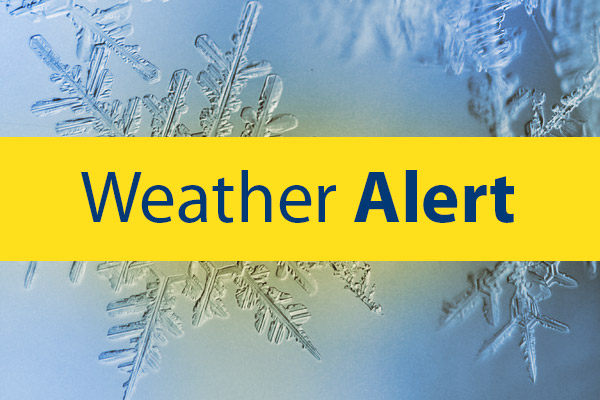 Blizzard watch
UD administrators monitor weather situation
12:17 p.m., Jan. 21, 2016--University of Delaware administrators are monitoring weather conditions in light of the blizzard watch issued by the National Weather Service for the region from Friday evening through Sunday morning, Jan. 22-24. 
According to the National Weather Service, heavy snow is expected this weekend, with accumulation of 12 to 18 inches estimated in New Castle County. Totals are predicted between 6 and 12 inches in Kent County, with a chance of changeover to sleet or freezing precipitation; and between 2 and 6 inches in Sussex County, with the coastal area possibly having a mostly rain event.  
June 6: UDid It! Picnic
All UD faculty and staff members are invited to attend the annual UDid It! employee appreciation picnic, set from 11 a.m.-1:30 p.m., Monday, June 6, on The Green.
2FA protects you
If you are using two-factor authentication (2FA), even if a hacker has your password, your information is probably safe.
A blizzard watch means there is potential for falling and/or blowing snow with strong winds and extremely poor visibilities. 
Any campuswide UD closings or late openings will be announced through a campuswide email and via the University's LiveSafe smartphone application, as well as posted on the UD homepage, UDaily and the University's primary social media accounts (www.facebook.com/UDelaware, www.twitter.com/UDelaware, www.facebook.com/UniversityofDelawarePolice and www.Twitter.com/udelpolice).  
News also will be available through the UD telephone information line at 302-831-2000, and it will be shared on the state Department of Education's School Closings and Delays website. 
Members of the campus community should not call UD Police so that telephone lines there can remain open for emergency calls.
Information on preparing for a winter storm is available on the Ready.gov website. 
Cancellations, postponements
• A Residence Life and Housing program titled "The Box We Live In: Ending Rape Culture," scheduled from 3-5 p.m., Saturday, Jan. 23, at the Trabant University Center, has been postponed. 
• Members are encouraged to register for the Campus Recreation email list to receive updates on changes to hours at the Carpenter Sports Building (Little Bob), with the email registration form available online. Updates will also be posted on the Campus Recreation website, Facebook, and Twitter.
• UD Athletics has announced weekend schedule changes. For the latest, visit bluehens.com.
• The University Ice Arena will be closed on Saturday, Jan. 23, with plans to reopen Sunday, Jan. 24, at a time to be determined.
• The Resident Ensemble Players' opening performance of Wait Until Dark on Friday, Jan. 22, has been canceled. The Saturday, Jan. 23, performances have been rescheduled to Sunday, Feb. 7. Ticket holders for Saturday's performances are being contacted by email and telephone. They are also invited to reschedule to any other available performance at no charge. Contact the REP box office at 302-831-2204. The schedule can be found at the REP webpage. Sunday's performance will be determined no later than 9 a.m. Sunday morning. Patrons will be informed of any change in schedule via email.
To submit information for inclusion in this list, send email to publicaffairs@udel.edu.
Personal safety
The University's policy is reprinted below:
Faculty and students are not expected to take unnecessary risks to meet their teaching and learning obligations due to inclement weather. When classes have not been canceled, it is a matter of personal judgment whether traveling to campus is hazardous. Faculty should notify their departmental offices when weather precludes them from meeting their teaching obligations; similarly, students should notify their professors when inclement weather precludes them from class attendance. In such cases, students should be allowed to make up missed class time and, whenever possible, canceled classes should be rescheduled.