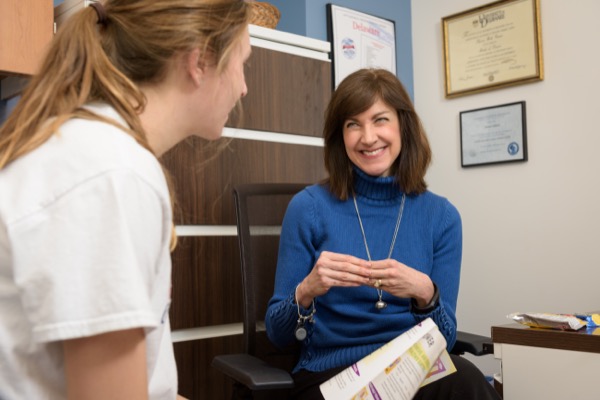 America's diet
Chewing on the new 'Dietary Guidelines for Americans'
9:42 a.m., Jan. 22, 2016--For the first time in five years, the U.S. Department of Agriculture and the U.S. Department of Health and Human Services released their "Dietary Guidelines for Americans." 
Because the entire document is a lot to chew on, Sharon Collison, clinical instructor in the University of Delaware's Department of Behavioral Health and Nutrition, took out her silverware and cut down the new dietary guidelines to smaller, more easily digestible pieces. 
'Resilience Engineering'
The University of Delaware's Nii Attoh-Okine recently published a new book with Cambridge University Press, "Resilience Engineering: Models and Analysis."
Reviresco June run
UD ROTC cadets will run from New York City to Miami this month to raise awareness about veterans' affairs.
Q: How will these guidelines impact the everyday lives of the general public?
A: It is important for health professionals such as registered dieticians to put the guidelines into terms the public can actually use. Eat more unprocessed foods, especially fruits, vegetables and whole grains. Remove unwanted sugar and saturated and trans fats from your diet and replace those foods with plant-based foods — whole grains, nuts, legumes, fruits and vegetables. Substitute foods with healthier polyunsaturated and monounsaturated fats (like olive oil, avocado and nuts) for saturated fats. 
Q: What are the biggest differences between this round and the previous round of dietary guidelines?
A: One key difference is that the updated guidelines don't include specific numerical recommendations for cholesterol, as they had in the previous edition. 
Another key difference is stricter recommendations for reducing intake of added sugars. The specific new recommendation is that added sugar should be less than 10 percent of daily calories. For a 2,000 calorie diet, that's about 200 calories a day, or about the amount in one 16-ounce sugary drink. This recommendation is part of a larger push to help consumers isolate added sugars from naturally occurring ones like those in fruit and milk since added sugars generally add empty calories to the diet.
Q: What about guidelines for sodium?
A: The recommendation for adults and children ages 14 years and older is to limit sodium intake to less than 2,300 milligrams (mg) per day. That's based on evidence showing a linear dose-response relationship between increased sodium intake and increased blood pressure in adults. Adults with prehypertension and hypertension would benefit from further reductions in sodium to 1,500 mg per day.
The DASH Eating Plan (Dietary Approaches to Stop Hypertension) is effective at reducing blood pressure.  This plan is high in vegetables, fruits, low-fat dairy products, whole grains, poultry, fish, beans, and nuts and is low in sweets, sugar-sweetened beverages, and red meats. 
Q: Do have any criticisms with the guidelines? Did they miss the mark on anything?
A: There should be stricter recommendations for red and especially processed meats. After a backlash from the meat industry and Congress, the administration ignored several suggestions from a February report by an advisory committee of doctors and nutrition experts. That panel recommended an environmentally-friendly diet lower in red and processed meats. But, as in the previous years, the government still says lean meats are part of a healthy eating pattern.
Otherwise, the guidelines are great. 
Q: The guidelines seek to limit sugar intake to only 10 percent of daily calories. For someone who is way over that limit, how should they approach trying to get down to 10 percent?
A: The first step would be to determine where most of the added sugars are coming from. The two main sources of added sugars in U.S. diets are typically sugar-sweetened beverages and snacks/sweets. Looking at intake of sugar-sweetened beverages is a good place to start. For example, does the person drink a lot of soda, fruit juice, sweetened iced tea and/or sugar-loaded coffee drinks? If so, I recommend the person reduce their intake of these beverages. Then look at your typical diet to see where else you are getting added sugars. Simply reducing portions of these foods may be enough to greatly reduce intake of added sugars. 
Q: What about guidelines for limiting saturated fat to less than 10 percent of calorie intake?
A: Limit intake of saturated fats to less than 10 percent of calories per day by replacing them with unsaturated fats and while keeping total dietary fats within recommendations. The human body uses some saturated fats for physiological and structural functions, but it makes more than enough to meet those needs. 
Strong and consistent evidence shows that replacing saturated fats with unsaturated fats, especially polyunsaturated fats, is associated with reduced blood levels of total cholesterol and of low-density lipoprotein-cholesterol (LDL-cholesterol). 
Q: What are the biggest diet-related diseases in America and what are the diet-related diseases that are of great concern, yet get overshadowed by the more well-known diseases? 
A: More than two-thirds of all adults and nearly one-third of all children and youth in the United States are either overweight or obese.
There is strong evidence that healthy eating patterns are associated with a reduced risk of cardiovascular disease (CVD); there is moderate evidence that healthy eating patterns also are associated with a reduced risk of type 2 diabetes, certain types of cancers (such as colorectal and postmenopausal breast cancers), overweight, and obesity. Emerging evidence also suggests that relationships may exist between eating patterns and some neurocognitive disorders, such as dementia.
Q: What services does the University of Delaware offer to the general public who want assistance with nutrition?  
A: We offer nutrition counseling and health coaching services at UD's Science, Technology and Advanced Research (STAR) Campus that is open to the public. Anyone can schedule an appointment (302-831-3195) with a registered dietitian for medical nutrition therapy in a wide variety of health issues, including diabetes, high cholesterol, weight management, eating disorders, gastrointestinal disorders, sports nutrition, food allergies or for healthy eating guidelines for disease prevention. We'd love to set you up with our health coaches. 
Article by Dante LaPenta
Photo by Evan Krape