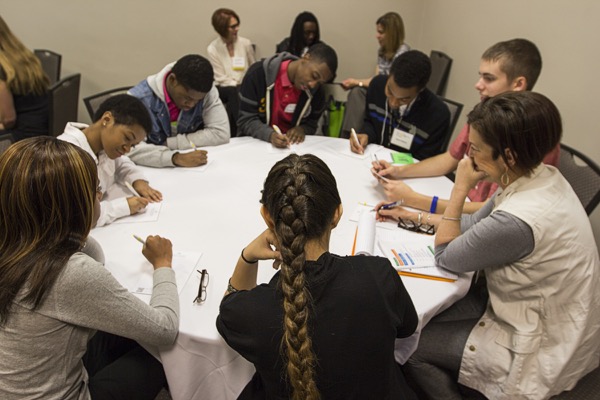 April 15: Youth Entrepreneurship Summit
Entrepreneurs will encourage students to 'Start Up Your Path' at Horn event
3 p.m., Feb. 25, 2016--Katlyn Grasso, founder and CEO of GenHERation, a female empowerment network for young women, will appear as the keynote speaker for the Youth Entrepreneurship Summit (YES!) to be held by the University of Delaware Horn Program in Entrepreneurship. 
Grasso, a recent graduate of the University of Pennsylvania's Wharton School of Business, is also a recipient of a 2015 Impact Grant from NBC Universal.
From graduates, faculty
As it neared time for the processional to open the University of Delaware Commencement ceremonies, graduating students and faculty members shared their feelings about what the event means to them.
Doctoral hooding
It was a day of triumph, cheers and collective relief as more than 160 students from 21 nations participated in the University of Delaware's Doctoral Hooding Convocation held Friday morning on The Green.
YES! will take place on Friday, April 15, at Clayton Hall, and will feature other engaging speakers throughout the day, as well as interactive workshops and the final round of the Diamond Challenge, a venture competition for high school entrepreneurs in which students compete for more than $50,000 in awards.
The theme of this year's summit is "Start Up Your Path." Workshops will be centered on topics meant to empower teens in their future career and life goals, whether as an entrepreneur or simply being entrepreneurial about their approach to work.
Rich Roat, co-founder of House Industries, will present a workshop on how to draw inspiration from diverse interests, something that has benefited his work at House Industries, an eclectic design studio based in Yorklyn, Delaware. The studio's impressive client list includes Major League Baseball, Nickelodeon's TV Land and Dunkin' Donuts.
UD alumna Jessica Taylor will lead a workshop on one of the most fundamental skills needed to experiment with electronics: soldering. Taylor, the founder and president of the board for Barrel of Makers, Delaware's first and only maker group, will teach participants the basics of soldering and guide them in completing a fun soldering kit. 
YES! will also feature several UD faculty and staff members who will lead workshops of their own. 
Anthony Middlebrooks, who teaches leadership theory and social entrepreneurship at UD, will take workshop participants through techniques to enhance their own creativity by looking at problems differently. These exercises can be applied to future entrepreneurial ventures and opportunities. 
Jill Gugino Pante, assistant director of the Lerner College Career Services Center at UD, will discuss how to develop and build a personal and professional brand. 
Dan Freeman, director, and Julie Frieswyk, manager of youth programs, both from the Horn Program, will lead a roundtable with educators on the topics of entrepreneurship and innovation in high school classrooms.
Other workshop leaders include: 
Shelby Newsome, founder and editor-in-chief of Tote Magazine;
Susan Frech, co-founder and CEO of Social Media Link;
Zach Phillips, director at video production company The Kitchen; and
Benjamin Rapkin, a recent UD alum and found of UD's E-Club.
This event is open to all high school students interested in attending. Early bird registration is $20 per person until Thursday, March 31. After that date, tickets will rise to $35 per person. 
YES! will be live-streamed online thanks to this year's technology sponsor, Capital One. Streaming will begin at 8:30 a.m. on the day of the conference at the Diamond Challenge website. 
To register for YES!, visit the website.