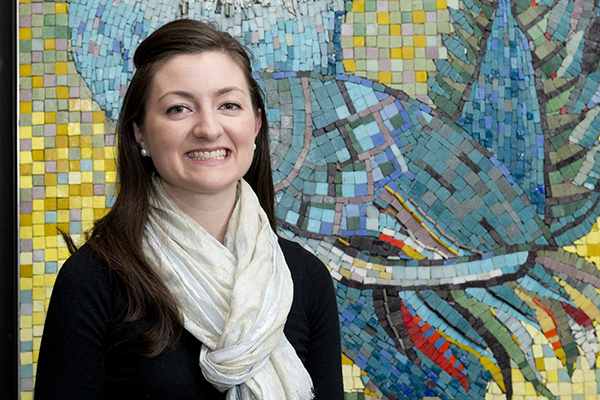 Breaking down classroom walls
School of Education alumna teaches technology to enliven lesson plans
8:15 a.m., Feb. 2, 2016--University of Delaware alumna Monica Burns began her teaching career as an elementary school teacher in one of New York City's first public schools to pilot one-to-one iPad use in the classroom. 
During her time in the classroom, Apple Education asked Burns to speak about the ways she used the iPad at an event in the city.
'Resilience Engineering'
The University of Delaware's Nii Attoh-Okine recently published a new book with Cambridge University Press, "Resilience Engineering: Models and Analysis."
Reviresco June run
UD ROTC cadets will run from New York City to Miami this month to raise awareness about veterans' affairs.
"I shared my experience and my favorite resources with the teachers in attendance and immediately people were asking me, 'What's your website? How do I follow you on Twitter?'" said Burns. "I was teaching in a wonderful teacher community where everyone's doors were open, but that's not always the case. Many teachers feel like they're isolated in their classrooms and look for resources online."
Burns, a 2007 graduate of the School of Education's elementary teacher education (ETE) program, began to offer those resources on ClassTechTips, a blog she initially created to share free iPad apps and lesson ideas with teachers. 
She also began developing iPad curriculum with LitWorld, a nonprofit organization that works to support literacy worldwide. 
Named an Apple Distinguished Educator in 2013, Burns joined a vibrant professional network of teachers and consultants interested in integrating technology into class curricula. She then expanded ClassTechTips to include posts on a range of technology tools, applications, and websites. 
She hosts webinars for education organizations and contributes regularly to Edutopia and Channel One News. 
Burns also travels regularly to schools to train teachers and students in new applications and works closely with teachers to help them integrate these tools into their lesson plans. 
In 2015, she served as the keynote speaker for the College of Education and Human Development's Educational Technology Conference.
"When we think about technology, we often think about it in isolation, as if the app itself is going to solve the problem in the classroom. But I really bill myself as an ed-tech and curriculum consultant," said Burns. "It's not just about 'What app do I open up?' It's really about 'How am I going to integrate this app into my classroom to elevate and energize my students' work?'"
Through teacher trainings, Burns helps K-12 teachers develop content knowledge in each discipline. However, she also encourages students to be creators and designers of their own digital experience. 
Instead of only learning to use Google Docs in a functional capacity, for example, Burns hopes that students will instead learn how to collaborate with peers in a digital space through Google Docs. 
In March, Burns' book, Deeper Learning with QR Codes and Augmented Reality: A Scannable Solution for Your Classroom, will be released by Corwin Publishing, providing actionable tips for teachers who want to elevate and energize their lessons, as well as her ACES (Access, Curate, Engage and Share) Framework for purposeful, scannable technology integration. 
Burns credits her education in the ETE program for her success inside and outside of the classroom. The program's extensive field experiences and the support of mentors allowed her to consider a range of education-related professions. 
"The great mentors, especially the coaching during my student teaching, were really integral in helping me think about what my career trajectory would look like if I left the classroom and what some of my options were for ensuring that I was still involved in another capacity," said Burns. "My time at UD helped me think through a variety of roles that an elementary educator can take on."
UD's Education Technology Conference
The College of Education and Human Development is hosting its third annual Education Technology Conference on March 5. Open to pre-K-20 educators, this full-day conference will introduce teachers with little technology experience to the realm of possibilities and provide the more technology-savvy users opportunities to explore newer, cutting edge technologies.
To learn more or to register for this event, visit the website or go to Jan. 7 UDaily article.
Article by Jessica Henderson
Photo by Lane McLaughlin