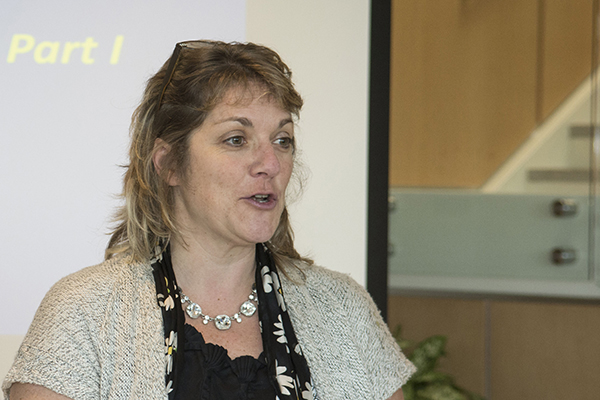 Health care funding
UD's Cowperthwait among researchers funded through Science Center program
1:26 p.m., Feb. 15, 2016--Researchers developing technologies that could lead to new gene and cell therapies, and that will help nurses and physical therapists do their jobs more effectively, will receive a total of $600,000 in funding through the eighth round of the University City Science Center's QED Proof-of-Concept Program. 
The program, started in 2009, funds novel university technologies with market potential, bridging the gap between academic research and product commercialization. 
Chronic wounds
UD's Millicent Sullivan and Kristi Kiick have received a $1.4 million grant from the National Institutes of Health for research that could provide a new approach to the treatment of chronic wounds.
Prof. Heck's legacy
The American Chemical Society is highlighting the legacy of the late Nobel laureate Richard Heck, the Willis F. Harrington Professor Emeritus of Chemistry at the University of Delaware with a digital tribute on its publications website.
The awardees were selected from a pool of 62 applicants and 12 universities in the Greater Philadelphia region and include the University of Delaware's Amy Cowperthwait, instructor in the School of Nursing, who is revolutionizing health care training by addressing shortcomings of mannequin simulation.
The QED grants will support researchers at UD, Penn State University and Rutgers University. 
Half of the $600,000 awarded will be contributed by the Science Center and half by the researchers' institutions. Each project will also receive guidance from the Science Center's experienced team of business advisors. 
To date, 28 funded QED projects have attracted over $15 million in follow-on funding and led to seven licensed technologies. 
The Round 8 awardees include: 
UD's Cowperthwait, who has teamed up with lead engineer Amy Bucha, a researcher in the School of Nursing, to develop a new tool for teaching health care workers techniques for airway management in emergency situations, improving patient safety and providing feedback from the patient's perspective.
Judith Deutsch, professor of rehabilitation and movement science at the Rutgers University School of Health Related Professions, who has led a team of physical therapists and engineers to create a customized low-cost rehabilitation technology that selectively tracks movement and heart rate. The technology will aid in balance, mobility, coordination and fitness training for older adults as well as persons with neurologic and musculoskeletal conditions such as stroke. 
Melik Demirel of Penn State, who is using proteins to coat the surfaces of biomedical swabs, allowing them to capture the DNA in a sample. These swabs will allow gene analysis from even tiny amounts of blood or other biological samples, with the DNA swab industry being the primary market for this product. 
KiBum Lee, associate professor of chemistry and chemical biology at Rutgers, who is developing an innovative platform for programming human patient-derived stem cells for use in stem-cell therapies in people with incurable and debilitating diseases and disorders. His strategy is unlike conventional approaches because it doesn't rely on the use of viruses to modify the cells' genes.
"The QED program excels at finding innovative, commercially relevant solutions for pressing problems in health care and life sciences," said Stephen S. Tang, Science Center president and CEO. "Our latest round looked for innovative approaches to collaboration as it emphasized partnerships between two groups that don't typically work together: medical professionals and engineers. Putting together these groups' different skill sets and perspectives, as exemplified by Amy Cowperthwait's and Judith Deutsch's projects, creates another path to improving patient care. You can expect to see more of these special emphasis areas in the future."
QED has received support from the U.S. Economic Development Administration, the commonwealth of Pennsylvania's Ben Franklin Technology Development Authority, the commonwealth of Pennsylvania's Department of Health, the Philadelphia Industrial Development Corporation, William Penn Foundation, and Wexford Science and Technology, a BioMed Realty Company.
About the Science Center 
The University City Science Center is a dynamic hub for innovation, and entrepreneurship and technology development in the Greater Philadelphia region.  It provides business incubation, programming, lab and office facilities, and support services for entrepreneurs, start-ups, and growing and established companies. Since it was founded in 1963, graduate organizations and current residents of the University City Science Center's Port business incubators have created more than 15,000 jobs that remain in the Greater Philadelphia region today and contribute more than $9 billion to the regional economy annually. The Science Center is leveraging its history as the nation's oldest and largest urban research park as it joins forces with Wexford Science and Technology, a BioMed Realty company, to expand its footprint and rebrand its physical campus as uCity Square — a true mixed-use community of ingenuity. For more information about the Science Center, go to ucscreview.org. 
About the QED Program 
The QED Program was launched in April 2009. A common participation agreement that defines matching funds, indirect costs, and intellectual property management, has been signed by 21 universities and research institutions in Pennsylvania, New Jersey, and Delaware: the Children's Hospital of Philadelphia, Delaware State University, Drexel University, Fox Chase Cancer Center, Harrisburg University of Science and Technology, Lankenau Institute for Medical Research, Lehigh University, Monell Chemical Senses Center, New Jersey Institute of Technology, Pennsylvania State University, Philadelphia College of Osteopathic Medicine, Philadelphia University, Rowan University, Rutgers University, Temple University, Thomas Jefferson University, University of Delaware, University of Pennsylvania, University of the Sciences in Philadelphia, Widener University, and The Wistar Institute.