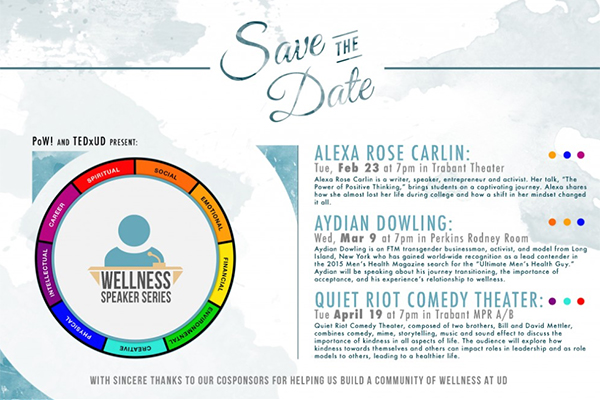 Wellness speakers
PoW! peer education group offers spring speakers on empowerment
7:54 a.m., Feb. 9, 2016--The PoW! (Promoters of Wellness) peer education group at the University of Delaware, which is offered through Student Wellness and Health Promotion with collaboration from additional UD campus departments and student organizations, is hosting a Wellness Speaker Series during the spring semester.
The goal is to provide students the opportunity to hear from a diverse group of presenters who will address a variety of topics and experiences related to one or more areas of wellness.
'Resilience Engineering'
The University of Delaware's Nii Attoh-Okine recently published a new book with Cambridge University Press, "Resilience Engineering: Models and Analysis."
Reviresco June run
UD ROTC cadets will run from New York City to Miami this month to raise awareness about veterans' affairs.
PoW! uses a wellness wheel with nine dimensions: spiritual, career, financial, emotional, intellectual, creative, environmental and physical.  Students can match the speakers for the series to multiple dimensions of wellness.
The theme for this year's series is empowerment and PoW! members said they hope that the speaker series will inspire students and help them feel empowered to make positive changes in their personal wellness. A representative said the group wants students "to feel empowered to be positive, true to themselves and kind." 
Through the Wellness Speaker Series, PoW! encourages students to empower themselves to stay true to their beliefs, model this to the world and empower others to have the same courage.
The speakers are as follows:
Alexa Rose Carlin: Tuesday, Feb. 23, at 7 p.m., in the Trabant University Center Theatre. Alexa Rose Carlin is a writer, speaker, entrepreneur and activist. Her talk, "The Power of Positive Thinking," promises to bring students on a captivating journey. Carlin will share how she almost lost her life during college and how a shift in her mindset changed it all.
Aydian Dowling: Wednesday, March 9, at 7 p.m., in the Rodney Room of the Perkins Student Center. Aydian Dowling is an FTM transgender businessman, activist and model from Long Island, New York, who has gained world-wide recognition as a lead contender in the 2015 Men's Health Magazine search for the "ultimate men's health guy." Dowling will speak about his journey transitioning, the importance of acceptance, and his experience's relationship to wellness.
Quiet Riot comedy theatre: Tuesday, April 19, at 7 p.m., in the Multipurpose Rooms of the Trabant University Center. Quiet Riot, featuring brothers Bill and David Mettler, combines comedy, mime, storytelling, music and sound effects to discuss the importance of kindness in all aspects of life. The audience will explore how kindness toward themselves and others can affect roles in leadership and serve to prepare people to be role models to others, leading to healthier lives.
For more information, including how to win prizes and VIP seating for the event, check out the organization's Wellness Speaker Series website, or follow it on Facebook and Twitter.