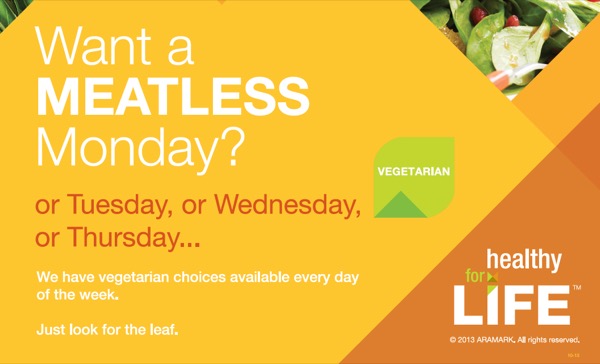 Meatless Monday
Health, sustainability initiative to be featured in UD Dining locations across campus
8:08 a.m., Feb. 9, 2016--As part of its commitment to provide students, faculty and staff with healthy, sustainable fare, University of Delaware Dining Services has joined the Meatless Monday movement.
University of Delaware Dining Services offers meat-free meals daily and will participate in Meatless Monday by increasing awareness of available meatless options on campus. While there will be meat selections available, the University community is encouraged to make selections from the many delicious meatless options.
June 6: UDid It! Picnic
All UD faculty and staff members are invited to attend the annual UDid It! employee appreciation picnic, set from 11 a.m.-1:30 p.m., Monday, June 6, on The Green.
2FA protects you
If you are using two-factor authentication (2FA), even if a hacker has your password, your information is probably safe.
Meatless Monday is a worldwide movement in which people eat meatless each Monday to help animals, the environment, and their own health – or simply to add more variety to their diets.
With support from the UD Veg Club registered student organization (RSO), UD Dining will lead Meatless Monday efforts throughout the spring semester, including:
Raising awareness of the various options available throughout on-campus dining locations that support a healthy, plant-based diet and lifestyle.
Weekly activities in UD Dining locations every Monday throughout the spring semester.
On-going promotion of Meatless Monday dining options and events via Instagram, Twitter and Facebook.
Meatless Monday highlights that connect to National Heart Month in February, National Nutrition Month in March and Earth Week/Earth Day in April.
"It's an easy way to make a difference, particularly for the environment, once you realize the relationship between what and how we consume," said Clarké Snell, president and founder of the UD Veg Club, and featured speaker for the University of Delaware Green Liaisons. "The overall goal is, of course, to reduce meat consumption as a whole, no matter what day a week, but Meatless Monday is a catchy and easy tool to give people resources – recipe ideas, fun facts, et cetera – to do so successfully."
For health
Diets rich in vegetables, fruits, whole grains, legumes, and nuts are consistently linked to lower obesity rates, blood cholesterol levels, and blood pressure. The Academy of Nutrition and Dietetics says this type of diet is appropriate for all stages of life, including childhood and adolescence and for athletes, and notes the benefits of eating more plant-based meals including a lower risk of death from heart disease (the leading cause of death in the U.S.), lower overall cancer rates, lower rates of type 2 diabetes, and a lower body mass index.
For the planet
Animal agriculture has been implicated by the United Nations as one of the top contributors to global environmental problems, due to its vast use of water, land, and fossil fuels and high carbon dioxide and methane emissions. Prominent environmental organizations like the Natural Resources Defense Council, Sierra Club, and more advocate for reduced meat consumption. According to Environmental Defense Fund, "If every American skipped one meal of chicken per week and substituted vegetables and grains…the carbon dioxide savings would be the same as taking more than half a million cars off of U.S. roads." The occasional meatless meal can help cut your carbon footprint and save precious resources like fresh water and fossil fuel. The Sustainable UD site has additional information.