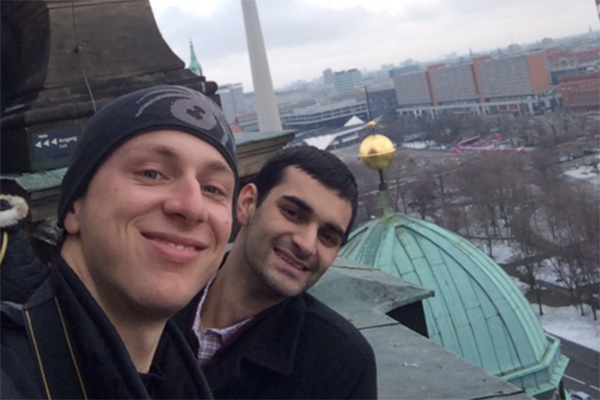 Engineering exchange
Engineering students should apply by Feb. 15 for unique study abroad experience
8:46 a.m., Feb. 11, 2016--Undergraduate engineering students at the University of Delaware who apply this month may have a uniquely tailored opportunity to study abroad in over 20 countries beginning in the fall.
The opportunities are a direct result of UD recently joining the elite Global Engineering Exchange (Global E3), a consortium of universities dedicated to international education and exchange for engineering students.
Fulbright awards
Three University of Delaware students and an alumna have received word this spring that they will travel abroad as part of the newest class of Fulbright Student Program award winners.
Peace Corps plans
Two University of Delaware students, John McCarron and Bridgette Spritz, have been selected as Peace Corps volunteers and will serve in Ghana and Rwanda.
According to Michael Vaughan, associate dean for academic affairs in the College of Engineering, "This partnership is critical to the college's success in the international exchange program space. It provides a robust global infrastructure for our college to leverage in order to create value-added experiences for our students all over the world." 
Membership in the Global E3 consortium, Vaughan continued, will allow students a gateway into creating future global impact. "Our dean offers a challenge to all who would join our ranks which simply states – let's go change the world together. Implicit in this challenge is the expectation that our students, during their educational process, would experience a bit about the world that they are trying to change for the better." 
Composed of over 70 institutions worldwide, the program will allow students to take engineering coursework at any member university outside of the U.S., with choices in Asia, Australia and the Pacific, Europe, Latin America, and the Middle East at the cost of University of Delaware tuition. 
Global E3 students will be able to receive UD credit for courses taken abroad, making it possible to stay on schedule for graduation. 
Kim Bothi, who worked with the College of Engineering dean's office to bring Global E3 to campus, describes the program as filling a necessary void in global academic experiences that will further develop UD graduates into well-rounded engineers. 
"The demanding nature of our engineering curriculum often makes it challenging for students to participate in study abroad outside of Winter Session," she said, adding that "through this vetted consortium of partner institutions, students will benefit from not only staying on track with their studies, but also gain critical cross-cultural experience." 
The partnership will also bring Global E3 international exchange students to the college, which Bothi noted "is great way to enrich the classroom environment for our UD students remaining on campus."
In addition to core engineering coursework, students may enroll in language instruction at their host university and take part in an internship in an industrial or laboratory setting. These elements of the competitive program will position participants for leadership in future international and professional settings.
Interested students may choose to study abroad for the fall semester or a full academic year, and must apply via the Institute for Global Studies application portal by 5 p.m., Monday, Feb. 15. 
Once nominated by the University, the number of students chosen will be dependent on the number of inbound students from other host institutions around the world. It is anticipated that up to seven students will be selected this year. 
Each participant university does provide on-campus housing, available to all Global E3 students. Individuals are encouraged to apply or reserve their housing space via their host university. 
Transportation costs will be the responsibility of the student. 
Those who wish to speak with an ambassador associate about daily life during the program are welcome to contact study abroad coordinator Matt Drexler, who will forward the message to a current Global E3 student.
Established by a group of leading universities in 1995, Global E3 is administered by the Institute for International Education (IIE) and has been funded by the National Science Foundation, AT&T Foundation, and the U.S. Department of Education, among others. 
For additional information on the program, visit the Institute for Global Studies website or contact Kim Bothi, associate director for science and engineering and faculty director.
About the Institute for Global Studies
The Institute for Global Studies was created in 2009 to enhance the international dimensions of teaching, research and outreach at the University of Delaware. IGS provides leadership and support for programs and experiences that contribute to the education of informed, skilled, open-minded citizens of the world.
Best known for coordinating the University's study abroad program, IGS also awards scholarships and grants to faculty and students for a number of global opportunities, and administers internationally-recognized State Department-sponsored programs such as the UD Fulbright Initiative, Middle East Partnership Initiative (MEPI) Student Leaders Institute, Mandela Washington Fellowship Program for Young African Leaders, and most recently the Study of the U.S. Institutes for Student Leaders on Women's Leadership (SUSI-WL) program.
IGS sponsors such signature events as Global Month each fall and country-specific celebrations each spring.
IGS collaborates with other global partners on campus, including the Office for International Students and Scholars, the Confucius Institute and the Center for Global and Area Studies.  In addition, IGS partners with Enrollment Management to coordinate the UD World Scholars Program.