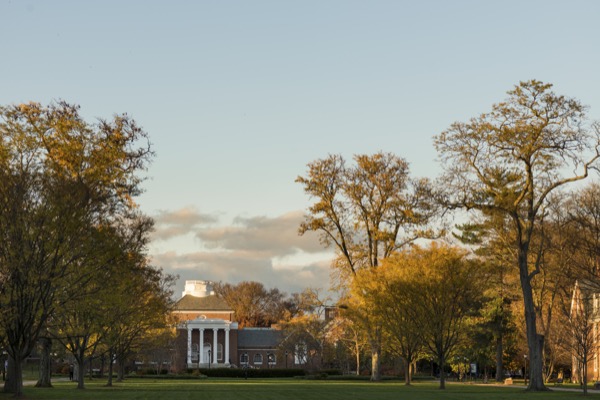 Best college value
Princeton Review, Kiplinger's guides cite UD for excellence, value
1:12 p.m., Feb. 2, 2016--The University of Delaware has been recognized for academic excellence, affordability and value by two national college guides.
UD is included in the 2016 edition of the Princeton Review book Colleges That Pay You Back: The 200 Schools That Give You the Best Bang for Your Tuition Buck released Feb. 2.
From graduates, faculty
As it neared time for the processional to open the University of Delaware Commencement ceremonies, graduating students and faculty members shared their feelings about what the event means to them.
Doctoral hooding
It was a day of triumph, cheers and collective relief as more than 160 students from 21 nations participated in the University of Delaware's Doctoral Hooding Convocation held Friday morning on The Green.
Also, the February issue of Kiplinger's Personal Finance magazine listed UD among the 100 best values in public colleges.
Princeton Review
The Princeton Review guide cites colleges that the education services company considers the nation's best for academics, affordability and financial aid, and "for getting their graduates out the door to satisfying and rewarding careers."
The universities included were selected based on a comprehensive analysis of more than 650 institutions of higher education, and the data analyzed covered academics, cost, financial aid, graduation rates, student debt and more.
"On so many fronts that matter to parents and students alike, these colleges are truly standouts," said Robert Franek, Princeton Review senior vice president/publisher and lead author of Colleges That Pay You Back. "They offer outstanding academics and generous financial aid to students with need and/or charge a relatively low cost of attendance. Some, phenomenally, do both. Their students also have access to extraordinary career services programs and a lifetime of alumni connections and post-grad support."
UD students cited in the guide describe a campus with "challenging classes and friendly professors," and the publication notes the strong service learning, study abroad and undergraduate research opportunities. It calls the University Honors Program an "intellectual pearl" and recognizes the well-connected and "very helpful" Career Services Center.
For details, see the Colleges That Pay You Back website.
Kiplinger's
The Kiplinger's Personal Finance ranking highlights institutions "that combine outstanding academics with affordable cost."
UD is ranked 42nd among public colleges and universities for both in-state and out-of-state students, and has consistently been included in the magazine's top 100.
The University of North Carolina, Chapel Hill, was ranked the best value among public institutions, followed by the University of Florida, the University of Virginia, the University of California, Berkeley, and the University of Michigan.
The magazine announced the list in its February issue.
Kiplinger assesses value by measurable standards of academic quality and affordability. Quality measures include the admission rate, the percentage of students who return for sophomore year, the student-faculty ratio and four-year graduation rate. Cost criteria include sticker price, financial aid and average debt at graduation. 
Many schools, including UD, have appeared on the list multiple times, a testament to the consistent value these colleges provide.
"We start with a universe of 1,200 schools, so each school on our rankings, from number 1 to number 300, is a best value," said Janet Bodnar, editor of Kiplinger's Personal Finance magazine. "Families can use the list as a starting point and then tailor it to each student's preference for such things as size, location, campus culture and major."
For the full rankings on the Kiplinger's website, click here. 
Photo by Evan Krape