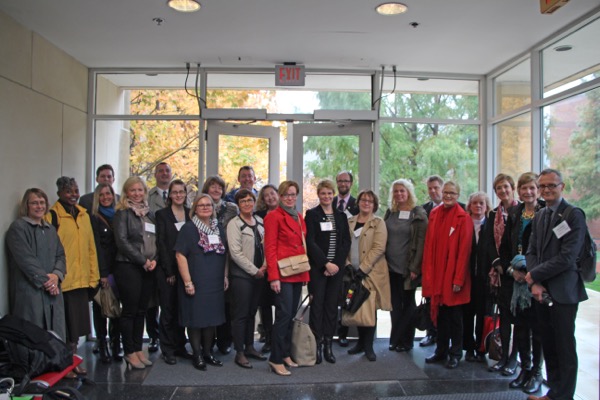 Finnish visitors
University of Delaware hosts Finland Fulbright Center's USA Study Tour
1:05 p.m., Dec. 2, 2015--The University of Delaware Institute for Global Studies, in partnership with the Office of Graduate and Professional Education, recently hosted 13 Finnish higher education experts for an in-depth look at graduate admissions and strategic enrollment management for graduate students at UD.
The visit, sponsored by Finland's Fulbright Center, aimed to promote networking and exchange in order to foster best practices at higher education institutions abroad. UD was one of a small number of institutions featured in the center's USA Study Tour. 
Fulbright awards
Three University of Delaware students and an alumna have received word this spring that they will travel abroad as part of the newest class of Fulbright Student Program award winners.
Peace Corps plans
Two University of Delaware students, John McCarron and Bridgette Spritz, have been selected as Peace Corps volunteers and will serve in Ghana and Rwanda.
Representatives hailed from six institutions including the University of Helsinki, the Finnish Ministry of Education and Culture, the University of Oulu, the University of Jyväskylä, the University of Turku and the Fulbright Center in Finland.
Among the topics discussed was the role of the Office for Graduate and Professional Education in recruiting and admitting graduate students at UD, where admission decisions are made by the faculty in each graduate program. At the center of conversation was the campus-wide use of Slate, a web-based workflow system used for processing admission applications in UD's decentralized process.
The graduate office processes an average of 7,000 to 8,000 applications per year and supports approximately 3,700 students in 240 doctoral, master's and graduate certificate programs. Slate, adopted in August 2015, allows the office and each program to quickly and efficiently regulate the admissions process. Slate also collects information on a variety of data points. 
The Finnish education experts found a particular strength in the University's unified use of the system, and posited whether its ability to collect a myriad of data points on diversity would allow the University to "meet its mark." 
"The charge for all programs and departments is to plan for inclusive excellence on all dimensions of the operations," said Michael Alexo, director of graduate admissions, adding that "we are in a much better place to help them do this because of the sophisticated nature of Slate." 
Visitors also attended a panel moderated by Mary Martin, associate vice provost for graduate education, which featured graduate program directors from electrical and computer engineering, international business studies, art conservation and physical therapy.
Panelists spoke about their individual admissions criteria and enrollment management processes, and answered attendees' questions on topics ranging from admissions to diversity, student services and post-graduation employability. 
The panelists agreed on key pieces of advice that would transcend discipline and international borders. 
"Standard application materials such as transcripts, letters of reference, standardized test results and statements of interest are fundamental to the graduate application review process," noted Ken Barner, professor and chair of the Department of Electrical and Computer Engineering. "While necessary, these are not always sufficient to evaluate the true potential and character of an applicant. Personal interviews ... add another important dimension to the review process and help build a true composite picture of the applicant, their past achievements and future potential." 
After the discussions, guests dined in Russell Dining Hall and met with University colleagues before departing for New York City and the last site visit of the USA Study Tour. 
Commitment to internationalization
The ability to successfully foster relationships with professionals in the international higher education community is one of the many reasons that the University of Delaware was recently awarded the NAFSA Senator Paul Simon Award for comprehensive campus internationalization. 
On Nov. 17, Acting President Nancy Targett participated in a presidential panel for all 2015 Simon recipients and officially accepted the award. 
Representing UD at the Washington, D.C., event were: Monica Taylor, vice president for Development and Alumni Relations; Babatunde Ogunnaike, dean of the College of Engineering; Frank Newton, acting vice president and chief of staff; Ravi Ammigan, director of the Office for International Students and Scholars; Jennifer Gregan, director of international programs for the Alfred Lerner College of Business and Economics; Amy Greenwald Foley, associate director for global outreach; and Joe Matterer and Karen Asenavage, associate directors of the English Language Institute.
"The University of Delaware has long been recognized as a leader in study abroad, sending our students across the globe since 1923," said Greenwald Foley. "By winning the 2015 NAFSA Simon Award, the larger community now acknowledges our commitment to internationalization at all levels."
About the Institute for Global Studies
The Institute for Global Studies was created in 2009 to enhance the international dimensions of teaching, research and outreach at the University of Delaware. IGS provides leadership and support for programs and experiences that contribute to the education of informed, skilled, open-minded citizens of the world.
Best known for coordinating the University's study abroad program, IGS also awards scholarships and grants to faculty and students for a number of global opportunities, and administers internationally-recognized State Department-sponsored programs such as the UD Fulbright Initiative, Middle East Partnership Initiative (MEPI) Student Leaders Institute, Mandela Washington Fellowship Program for Young African Leaders, and most recently the Study of the U.S. Institutes for Student Leaders on Women's Leadership (SUSI-WL) program.
IGS sponsors such signature events as Global Month each fall and country-specific celebrations each spring.
IGS collaborates with other global partners on campus, including the Office for International Students and Scholars, the Confucius Institute and the Center for Global and Area Studies. In addition, IGS partners with Enrollment Management to coordinate the UD World Scholars Program.
Article by Nikki Laws