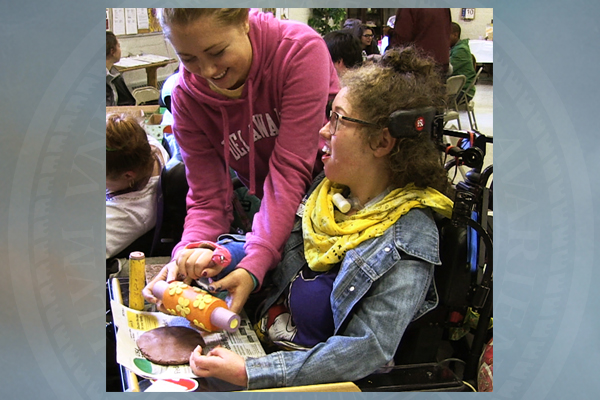 'Community inclusion'
UD's Center for Disabilities Studies to hold Artfest Sept. 26 in Newport
2:55 p.m., Aug. 28, 2015--Haley Shiber says she can't wait to attend what she believes will be her eighth Artfest, the annual community workshop that encourages people with disabilities to express themselves through art. 
"My favorite part was the roller wheelchair art and working side by side with volunteers," she says. "Natalie was awesome." 
From graduates, faculty
As it neared time for the processional to open the University of Delaware Commencement ceremonies, graduating students and faculty members shared their feelings about what the event means to them.
Doctoral hooding
It was a day of triumph, cheers and collective relief as more than 160 students from 21 nations participated in the University of Delaware's Doctoral Hooding Convocation held Friday morning on The Green.
Natalie Pesetsky was the University of Delaware student volunteer who paired with Shiber at last year's Artfest. 
An English major who has since graduated from UD, Pesetsky assisted Shiber with several art activities. Her favorite moment, however, was watching Shiber shine – without Pesetsky's assistance – during the floor mural project. 
"She used her wheelchair to propel herself across the canvas and her wheels were actually picking up the paint," says Pesetsky. "She was spinning in circles and having lots of fun."
Shiber's mother, Deb Shiber, says Haley and members of her family continue to attend Artfest because it allows participants to spend time with their peers, with and without disabilities. "It's community inclusion at its finest," she says. 
Participants and volunteers will come together for this year's Artfest on Saturday, Sept. 26, at the Absalom Jones Community Center in Newport. 
Admission is free, and individuals with disabilities from throughout Delaware are invited to attend. Participants will be joined by student volunteers from UD who are eager to help the participants express their creativity. 
Participants will have the opportunity to take part in a number of activities this year, including mask making, spin art and a 3-D art project. 
Adaptive art tools, including arm skates and wheelchair rollers, will ensure that every project offered is accessible to all participants. 
Artfest's creative director, Lisa Bartoli, the director of and lead artist at Art Therapy Express of Newport, says this makes Artfest "more about ability than disability."
"Every year I'm amazed by the masterpieces that are created, but also by the new friendships and the lives that are made richer," says Bartoli. 
Artfest is made possible through a partnership between CDS, Art Therapy Express and the New Castle County Department of Community Services.
Those who are interested can register here as an Artfest participant, or register here as an Artfest volunteer. They can also call Kristen Fraley at 302-831-3632 with questions or for help registering for the event. The deadline to enroll is Sept. 18. 
Article by Kristen Fraley