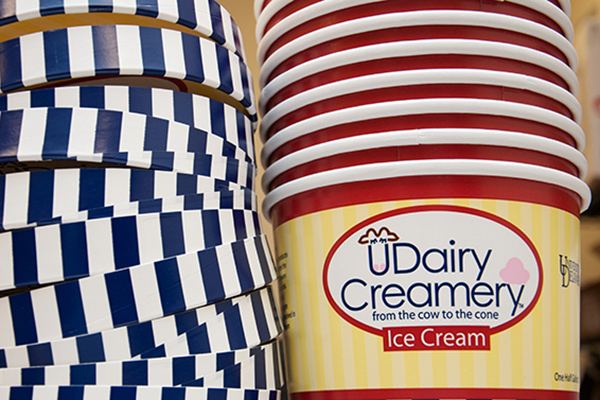 UDairy delivered
UDairy ice cream available for shipping to homes, businesses
11:28 a.m., April 18, 2016--Fans of the University of Delaware's UDairy Creamery ice cream will no longer have to be close to the First State to get their hands on their favorite flavor as the creamery will now offer to ship its product anywhere in the continental United States. 
Melinda Shaw, UDairy Creamery manager, said the decision to make ice cream available via shipping came when the creamery got an unusually large number of requests over a two-month period for products to be shipped to locations outside of Delaware. 
From graduates, faculty
As it neared time for the processional to open the University of Delaware Commencement ceremonies, graduating students and faculty members shared their feelings about what the event means to them.
Doctoral hooding
It was a day of triumph, cheers and collective relief as more than 160 students from 21 nations participated in the University of Delaware's Doctoral Hooding Convocation held Friday morning on The Green.
"We had a handful of requests from the Development and Alumni Relations office and then a handful of random requests in a short period of time," said Shaw. 
The UDairy Creamery is also working with a spice company to develop new ice cream flavors and the firm asked if it could ship the ice cream to some of its trade shows as well as provide samples to clients. 
"We thought, if we're going to have to figure it out for those requests, we might as well offer it to everyone," said Jennifer Rodammer, supervisor at the UDairy Creamery. 
The creamery will offer pint, half gallon and two and a half gallon containers, all of which will be packed with dry ice in a foam cooler in a box. To ensure that the ice cream doesn't melt on its way to the customer, the packages will be shipped overnight.
There will be two cooler sizes available, a small one for $25 and a large one for $30. The dry ice and cooler are included in the costs but the ice cream and the cost of shipping will be added on to those starting prices. 
Any of the flavors that are currently in stock and available at the creamery are eligible for shipping. 
Shipping will also be available during the holidays to allow for a sweet treat to be delivered to anyone's home or business. 
To get ice cream shipped out to a certain location, those interested should visit the UDairy Creamery website and fill out an order form and then call the creamery at 302-831-2486 to get a quote once the weight and shipping costs are determined. 
Article by Adam Thomas