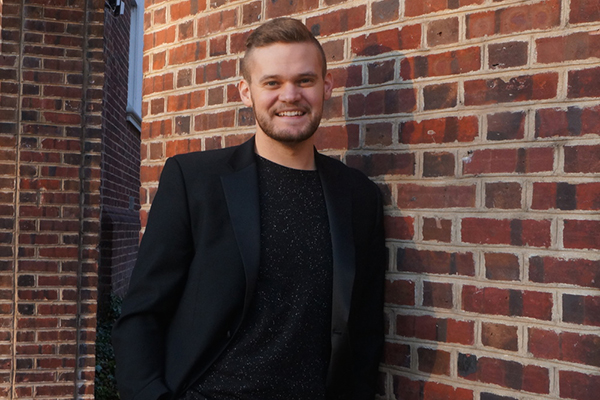 Tenor joins Swingles
Alumnus Jon Smith on tour with Grammy-winning musical group
8:56 a.m., April 4, 2016--Jon Smith of Long Island, New York, who earned a bachelor of music degree in vocal performance at the University of Delaware in 2014, is the newest member of the veteran singing group The Swingles.
Formerly known as the Swingle Singers, the group was founded in the 1960s and today is based in London and consists of seven young singers. With a large and varied repertoire, they have released more than 50 recordings, won five Grammy Awards and appeared on numerous film and TV soundtracks including Grey's Anatomy and Glee.
'Resilience Engineering'
The University of Delaware's Nii Attoh-Okine recently published a new book with Cambridge University Press, "Resilience Engineering: Models and Analysis."
Reviresco June run
UD ROTC cadets will run from New York City to Miami this month to raise awareness about veterans' affairs.
Featuring the sounds of folk, classical, jazz, Latin and pop music as well as original songs, The Swingles have been called "never less than dazzling" by the Washington Post. 
The group is on an international tour this spring, with stops this month in the Northeast United States, including performances April 29 in Montclair, New Jersey, and April 30 in New York City. A schedule of their upcoming appearances is available at this website.
Smith is a tenor with a background that includes pop, jazz, opera, gospel and choral music and has experience as a singer, arranger and recording engineer.
At UD, he was musical director of the coed student group Vocal Point in 2014 when it reached the final round of the prestigious International Championship of Collegiate A Cappella competition. He is also the former musical director of Hyannis Sound and an arranger for The Vocal Company.
In their announcement of Smith joining the group, The Swingles called him "an outstanding vocalist, superb all-round musician and outrageously nice guy." Smith performed with the group for a few shows in January and joined it at the end of March.