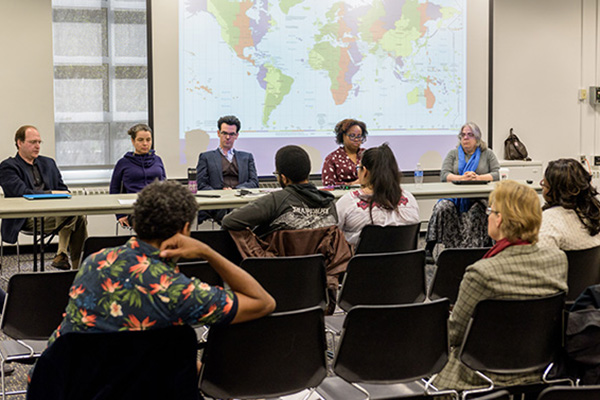 Race in the Americas
Workshop, symposium highlight need for ongoing conversation on race, ethnicity
7:47 a.m., April 14, 2016--As academics conduct research on topics related to race, they often overlook how such issues affect the academy itself and whether issues of race and gender can make people feel excluded.
That was one of the messages delivered by Adunni Adams, a founder of the organization Race in the Americas (RITA), when she spoke at a University of Delaware symposium on April 8.
Fulbright awards
Three University of Delaware students and an alumna have received word this spring that they will travel abroad as part of the newest class of Fulbright Student Program award winners.
Peace Corps plans
Two University of Delaware students, John McCarron and Bridgette Spritz, have been selected as Peace Corps volunteers and will serve in Ghana and Rwanda.
Adams shared some personal stories of how race and gender had influenced the way she was treated, as well as her observations of how black women and their concerns are often not taken seriously in academic discussions. RITA was created, she said, to embrace "people who feel so excluded and shut out" from traditional academic discussions.
The symposium, "Where You Were Never Meant to Be?" was presented by UD's Latin American and Iberian Studies Program (LAIS) as part of its yearlong film and speaker series, "Engaging Race and Ethnicity in the Americas."
Adams shared the keynote speaker role at the symposium with RITA co-founder James Owen Heath. 
The organization was formed in the United Kingdom to encourage interdisciplinary research and interaction among those in academia, politics and the media. Although RITA is not affiliated with an institution and has limited funds, it has held eight successfully conferences dealing with a range of issues related to race, Heath said.
The group has encountered academic researchers who study class, for example, but refuse to consider race, Heath said, but it's also been supported by courageous and enthusiastic academics who want to address racial concerns.
"RITA has worked for three years to have an impact both inside and outside the academy," Heath said. "We're confident there will be more discussions of this type on this side of the pond."
The full-day symposium also included two panel discussions and was preceded by an April 7 workshop in which the participatory Theater of the Oppressed engaged the audience in theatrical debates, games and scenes.
UD sponsors of the events included the College of Arts and Sciences; the centers for Black Culture, the Study of Diversity, and Global and Area Studies; the departments of Anthropology, Black American Studies, History, Theatre/REP, Women and Gender Studies, and Languages, Literatures and Cultures; and the schools of Education and of Public Policy and Administration.
Article by Ann Manser
Photo by Evan Krape