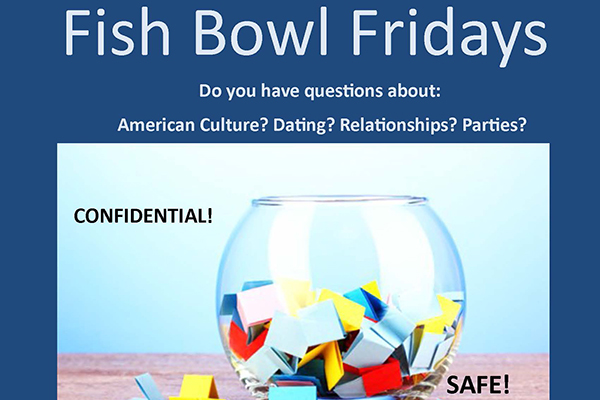 Fish Bowl Fridays
International students encouraged to ask questions about American culture
1:52 p.m., April 14, 2016--International students attending the University of Delaware are encouraged to participate in Fish Bowl Fridays, where anonymous questions placed in a glass bowl will be answered by Student Wellness and Health Promotion representatives.
The first event will be held from 2:30-3:30 p.m., Friday, April 15, in a safe and confidential space at the Office for International Students and Scholars at 44 Kent Way, with subsequent events April 22, April 29 and May 6. No registration is required.
Fulbright awards
Three University of Delaware students and an alumna have received word this spring that they will travel abroad as part of the newest class of Fulbright Student Program award winners.
Peace Corps plans
Two University of Delaware students, John McCarron and Bridgette Spritz, have been selected as Peace Corps volunteers and will serve in Ghana and Rwanda.
International students can ask questions about American culture, dating, relationships, alcohol and parties.
Students are asked to fill out an anonymous survey to give organizers a better understanding of the type of questions that might be asked. Answers to the survey will help the staff make the events better using students' ideas. All answers will be anonymous.