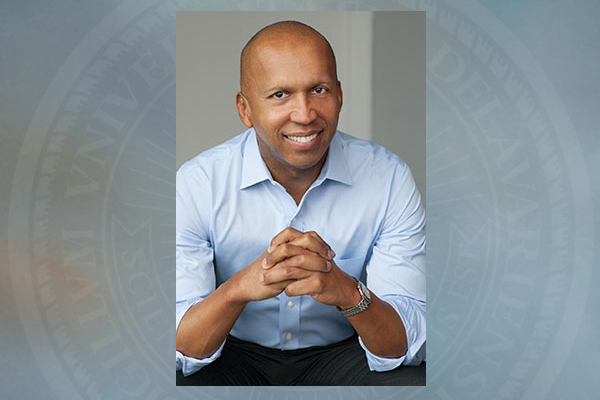 Commencement 2016
Equal Justice Initiative's Bryan Stevenson to speak at UD Commencement May 28
4:14 p.m., April 4, 2016--Bryan Stevenson, founder and executive director of the Alabama-based Equal Justice Initiative and award-winning author, will speak at the University of Delaware's 167th Commencement exercises, scheduled at 9 a.m., Saturday, May 28, in Delaware Stadium.
Commencement, which is free and open to the public, is held rain or shine. In case of inclement weather, the ceremony may be shortened.
'Resilience Engineering'
The University of Delaware's Nii Attoh-Okine recently published a new book with Cambridge University Press, "Resilience Engineering: Models and Analysis."
Reviresco June run
UD ROTC cadets will run from New York City to Miami this month to raise awareness about veterans' affairs.
"We are honored to have a fellow Delawarean, Bryan Stevenson, who is a tireless and powerful advocate for justice, return to his home state to deliver this year's Commencement address," said John Cochran, chairman of the University's Board of Trustees. "His work on behalf of those wrongly condemned by the criminal justice system has been an inspiration, providing them a voice and shedding light on an important national issue."
"Bryan Stevenson is an outstanding selection to be our Commencement speaker, having received stellar reviews following his fall campus presentation to UD freshmen," Jeff Garland, vice president and University secretary, said. "He has great passion for his work, and his address to the Class of 2016 and their families and friends promises to be enlightening, informative and inspirational."
Stevenson was on campus last fall to discuss his book Just Mercy: A Story of Justice and Redemption with freshmen as part of the University's First Year Common Reader program.
Published by Spiegel and Grau, Stevenson's book is a powerful true story about the potential for mercy as redemption and a clarion call to fix a broken system of justice. It won the 2015 Andrew Carnegie Medal for excellence in nonfiction and the 2015 Dayton Literary Peace Prize for nonfiction.
Stevenson, who grew up in Milton, Delaware, was a young lawyer when he founded the Equal Justice Initiative, a legal practice dedicated to defending those who need it most – the poor, the wrongly condemned and women and children trapped in the farthest reaches of the American criminal justice system.
The case of Walter McMillian, a young man sentenced to die for a murder he insisted he did not commit, drew Stevenson into a tangle of conspiracy, political machination and legal brinksmanship, and forever transformed his understanding of mercy and justice. Ultimately, McMillian's conviction was overturned and he was freed in 1993 after spending six years on death row for a crime he did not commit, and that case was featured in Just Mercy.
A graduate of Eastern University, Harvard Law School and the John F. Kennedy School of Government at Harvard, Stevenson has received numerous awards, including the Reebok Human Rights Award, the American Civil Liberties Union National Medal of Liberty, and a MacArthur Fellows Award. He also is the co-recipient of the 2009 Gruber Prize for Justice and last year was named one of Time magazine's 100 most influential people as a "pursuer of justice."
In addition to his work with the Equal Justice Initiative, Stevenson is a professor of clinical law at the New York University School of Law.
For more information on the May 28 event, visit the special Commencement website.
Official hashtags for Commencement are #UDGrad2016 and #BlueHensForever.
Photo by Nina Subin