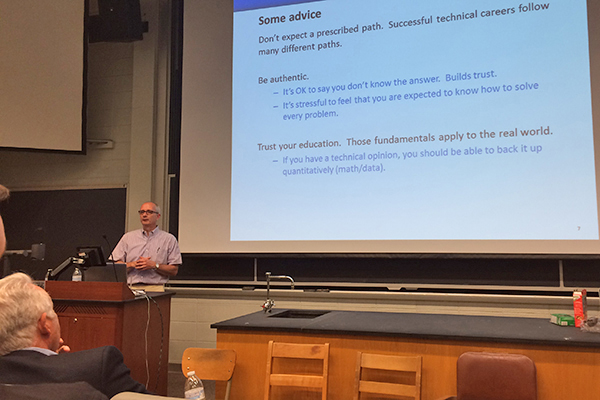 DuPont Fellows panel
Top technical experts share advice with chemical engineering students
9:53 a.m., April 29, 2016--More than 30 members of the University of Delaware student chapter of the American Institute of Chemical Engineers (AIChE) benefited from the advice of four DuPont Fellows at a panel-style discussion on Tuesday, April 26. 
The DuPont Fellows are "extraordinary scientists and engineers who are at the forefront of defining brand-new technologies and directions of research both internally and externally, and whose outstanding leadership inspires the scientific community."
From graduates, faculty
As it neared time for the processional to open the University of Delaware Commencement ceremonies, graduating students and faculty members shared their feelings about what the event means to them.
Doctoral hooding
It was a day of triumph, cheers and collective relief as more than 160 students from 21 nations participated in the University of Delaware's Doctoral Hooding Convocation held Friday morning on The Green.
Participants included Jim Tilton, an expert on transport phenomena; Ken Leffew and Linda Ankrom, experts on polymer reaction engineering; and Art Etchells, an expert on mixing, solids handling, and crystallization.
Their advice included being open to trying various jobs within chemical engineering to find your fit, having a strong sense of purpose and a desire to make a difference, and assessing your own strengths and weaknesses early and often in your job. 
They also emphasized the importance of a graduate degree for a technical career and the need for people to manage their own careers.
Ankrom, who was in the 2014 class of DuPont Fellows — the first to include women — recommended that graduates find a career mentor and that they balance their work with outside hobbies.
Etchells, who is retired but still works 40 hours per week, said, "The fastest way to learn something is to teach it," while Tilton stressed the importance of being willing to take on small jobs to build trust among colleagues and partners.
"I found the DuPont Fellows panel to be an informative and inspiring event for undergraduate students," said Victoria Muir, a sophomore chemical engineering major in the Honors Program and AIChE community outreach chair. 
"It was a neat experience to have such a diverse group of technical experts in the same room to talk about their experiences and provide valuable advice on our chemical engineering futures. It is certainly an event I would like to host again next year as our chapter vice president, and I hope to expand the event to bring in more fellows and attendees."