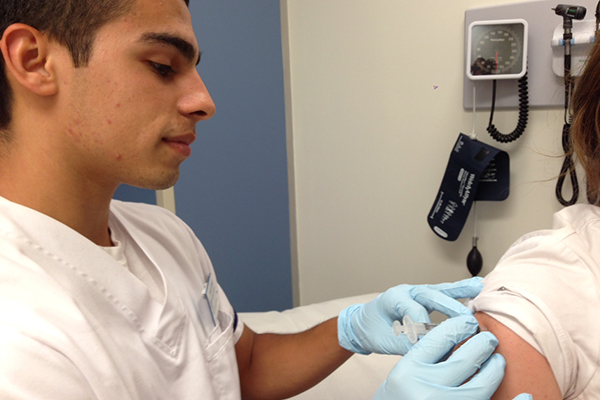 Flu prevention
Health care professionals recommend flu shots for students, faculty, staff
1:49 p.m., Sept. 8, 2014--Flu season is coming, and the Centers for Disease Control (CDC) recommends annual flu shots for everyone older than 6 months of age.
According to the CDC, "An annual flu vaccination is the first and most important step in protecting against flu and its potentially serious complications. Millions of people have safely received flu vaccines for decades. Flu vaccination can reduce flu illnesses, doctors' visits, and missed work and school due to flu, as well as prevent flu-related hospitalizations and deaths." 
June 6: UDid It! Picnic
All UD faculty and staff members are invited to attend the annual UDid It! employee appreciation picnic, set from 11 a.m.-1:30 p.m., Monday, June 6, on The Green.
2FA protects you
If you are using two-factor authentication (2FA), even if a hacker has your password, your information is probably safe.
Several clinics on the University of Delaware campus — the Nurse Managed Health Center (NMHC) for faculty and staff and their family members, the HealthyU Employee Wellness Program for faculty and staff, and Student Health Services (SHS) for students — provide convenient locations to get flu shots.
Faculty, staff and family members
The NMHC is offering a two-week flu clinic from Oct. 6-17, from 8 a.m.-4 p.m., with no appointment necessary. Individuals can also call the NMHC at 302-831-3195 and schedule an appointment for a flu shot.
The NMHC is located in Suite 130 of the Health Sciences Complex on UD's Science, Technology and Advanced Research (STAR) Campus. Cost is $22 for UD faculty and staff, and Wellness Dollars will be accepted, and $30 for all others. The NMHC accepts cash, checks, credit cards, and most major health insurance plans. Insurance co-payment is due at the time of service.
Allen Prettyman, NMHC director, encourages everyone to get a flu shot to help keep everyone on the UD campus as healthy as possible. The flu can cause missed days from work, which negatively impacts educational programs and research studies, to name just two examples.
Also for faculty and staff, the Office of Human Resources' HealthyU Employee Wellness Program will offer worksite flu shot clinics in Rooms 119 and 119A of the Carpenter Sports Building from 11 a.m.-4 p.m., Thursday, Oct. 2, from 8 a.m.-1 p.m., Friday, Oct. 3, and from 8 a.m.-1 p.m., Tuesday, Oct. 7.
The cost of the flu shot is $22 and Wellness Dollars, online payments, or checks in person may be used for this service. Faculty and staff may self-select an appointment time by registering through this link. Further information may be obtained by calling the HealthyU office at 831-8388 or via email at wellness@udel.edu.
Students
SHS is offering flu clinics on Friday, Oct. 3, and Tuesday, Nov. 4, by appointment only. Students who cannot make it to either of these clinics can schedule an appointment by visiting the website. Forms can be completed in advance online.
The cost of the vaccine is $16. Students with the University of Delaware Student Insurance Plan will have the charge billed directly to Highmark. Students without the University of Delaware Student Insurance Plan will have the charge billed to the student account and will be offered an itemized bill to submit to their insurance plan. 
SHS is located in Laurel Hall, at the south end of UD's Green.
This year, SHS is offering an incentive to groups of 50 or more students who meet 100 percent compliance in getting the flu vaccine. A group can be a residence hall floor, a group of friends, a team, a social club, etc. 
One person, identified as the leader, needs to supply SHS with contact information (email and phone), collect the participants' names and student ID numbers, and submit the information to the immunization desk at Student Health Services by Nov. 20. Through a random drawing, two teams will be awarded coupons to the UDairy Creamery. 
Dr. Timothy Dowling, SHS director, advises students to eat something before they come in to receive the vaccination and to allow at least 30 minutes to receive the vaccine and 20 minutes to stay after the injection.