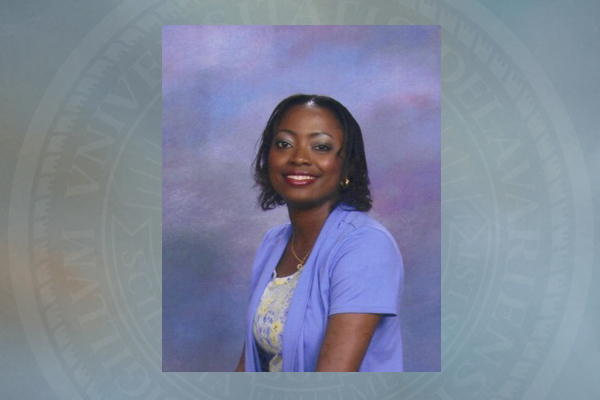 International student cited
UD graduate student recognized for work on post-election violence in Africa
2:22 p.m., Sept. 26, 2014--Faith Okpotor, a doctoral candidate in the University of Delaware's Department of Political Science and International Relations, has been recognized for her outstanding research and writing focused on post-election violence in Africa.
Okpotor, from Lagos, Nigeria, has won two prestigious fellowships -- a National Science Foundation (NSF) Doctoral Dissertation Research Improvement Grant and a Jennings Randolph Peace Scholarship Dissertation Fellowship from the U.S. Institute for Peace -- that will allow her to conduct further research in Nigeria, Ghana and Côte d'Ivoire. 
Fulbright awards
Three University of Delaware students and an alumna have received word this spring that they will travel abroad as part of the newest class of Fulbright Student Program award winners.
Peace Corps plans
Two University of Delaware students, John McCarron and Bridgette Spritz, have been selected as Peace Corps volunteers and will serve in Ghana and Rwanda.
Okpotor will study a variety of political tensions and examine how violence in the past has shaped current and future post-election societal situations.
"As a department we are very proud of Faith's accomplishments in winning these two prestigious awards. This is the first time for our young Ph.D. program that any of our graduate students have won an NSF award for their dissertation research or another external grant to fund dissertation research," said Gretchen Bauer, professor and chair of the Department of Political Science and International Relations.
Okpotor uses a mix of multiple research methods including quantitative analysis and qualitative data examination. 
She said she hopes to provide a systematic explanation for the occurrence of post-election violence across Africa, help answer why post-election violence occurs in certain contexts and not in others, and provide a theoretically-grounded general account of post-election violence on the continent.
"Post-election violence is a current problem, lives are at stake," said Okpotor.
"In the future, scholars suggest that the kinds of conflict we may see [across Africa] will be things like electoral violence or violence over resources such as land," said Bauer. 
Okpotor wanted to study the political violence and security confluence. Security issues always interested her, and after taking an international security class in the second year of her doctoral program, her interests were further confirmed.
"I always knew I was going to study security issues," said Okpotor, who has both personal interests and professional interests in Africa.
Case studies in Okpotor's dissertation include a comparison among three very different African counties that have had post-electoral histories ranging from rather peaceful, to violence leading to riots and displacement, and even violence leading to a civil war.
"Winning these two awards from the NSF and U.S. Institute for Peace suggests that Faith has been extremely hardworking and diligent in the course of her graduate studies with us, but also that she has identified a topic of great importance not just in Africa but in many other parts of the world," said Bauer, who added, "She will likely make a significant contribution to our understanding of this phenomenon." 
Okpotor has already conducted research in Nigeria and Ghana. The fellowships will allow her to interview party officials and activists, as well as electoral commission officials. She said she hopes to spend about another 12 weeks conducting research in the field.
"Africa is democratizing -- peace anywhere is good for peace everywhere," said Okpotor.
"So many countries are in the process of transitioning to democracy," said Dan Green, associate professor of political science and international relations at UD. "It is an important topic that she is studying."
Okpotor herself has witnessed the violence that can stem from political elections and disputes. Not only does she believe that this violence is a national security issue but also that it is a human security issue.
Okpotor first came to the United States to attend Hampshire College. She then received her master's degree from Northwestern University and has been at the University of Delaware since 2010 working toward a doctorate. 
Besides Okpotor's work in academia, she has had experience as a political journalist in print, radio and television. 
National Science Foundation
Okpotor received the National Science Foundation Social, Behavioral and Economic Sciences Doctoral Dissertation Research Improvement Grant.  This grant aims to help improve the quality of dissertation research. 
NSF was established in 1950 by Congress to support fields of fundamental science and engineering to help promote the progress and advancement of these topics through education.
There are about 11,000 new awards per year that are given to promising research proposals that have been judged based on a rigorous and objective merit-review system. 
Over 200 Nobel Prize winners have received funds for research through NSF.
U.S. Institute of Peace
The institute was established by Congress in 1984 and promotes active engagements in the conflict zones around the world through teaching and training, research and analysis and global grant making. 
USIP is a federally funded national security institute. Devoted to nonviolent prevention and mitigation of deadly conflict abroad, USIP has five main centers including the Center for South and Central Asia, the Center for Governance, Law and Society, the Center for the Middle East and Africa, the Center for Applied Research on Conflict and the Academy for International Conflict Management and Peace building.
Jennings Randolph Peace Scholarship
Jennings Randolph Peace Scholar Dissertation Fellowships are awarded to outstanding doctoral students researching and writing dissertations with clear relevance for policy and practice in the field of international peace building and conflict management. 
The fellowships support one year of dissertation research and writing on topics addressing the sources, nature, prevention, and management of international conflict. 
Article by Elizabeth Adams