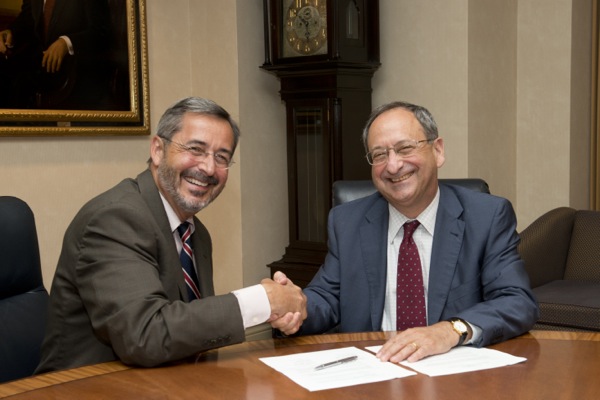 Law program accord
UD, Vermont Law School announce articulation agreement
1:15 p.m., Oct. 2, 2014--The University of Delaware and the Vermont Law School, which have strengths in environmental studies, have announced an articulation agreement to smooth the transition for UD graduates seeking to enroll at Vermont Law.
Vermont Law is a private, independent institution that has the top-ranked environmental law program and one of the top-ranked clinical training programs in the nation, according to U.S. News and World Report.
The agreement provides that UD students who have earned bachelor's degrees and who meet the Vermont Law entrance requirements will be guaranteed admission into its juris doctor, master's or joint juris doctor/master's programs.
"The University of Delaware is a leader in environmental education and research. Our agreement creates an exciting and unique pathway for our students to pursue their passion for environmental issues and policies," said UD Provost Domenico Grasso. "Our partnership with Vermont Law School's top-ranked environmental law program is emblematic of our continued and strong commitment to excellence."
From graduates, faculty
As it neared time for the processional to open the University of Delaware Commencement ceremonies, graduating students and faculty members shared their feelings about what the event means to them.
Doctoral hooding
It was a day of triumph, cheers and collective relief as more than 160 students from 21 nations participated in the University of Delaware's Doctoral Hooding Convocation held Friday morning on The Green.
"UD has leading programs in environmental science and policy and Vermont Law is renowned for its studies in environmental law, making the partnership a natural," said UD Deputy Provost Nancy Brickhouse.
The articulation agreement was finalized during a September campus visit by Vermont Law President Marc B. Mihaly, who met with UD administrators, faculty members and students.
"We are truly excited about this partnership, especially given the strong commitment to environmental science at the University of Delaware," said Mihaly. "It aligns our mutual strengths."
The agreement, signed by Mihaly and Grasso, is now in effect.
To be accepted by Vermont Law to its juris doctor or juris doctor/master's programs, UD applicants must have a cumulative grade point average (GPA) – as calculated by the LSAC Credential Assembly Service – that is equal to or exceeds the median GPA of the first-year juris doctor class in residence at Vermont Law at the time of the application. 
Also, the UD applicant must have a current LSAT score that is equal to or exceeds the median LSAT score of the first-year juris doctor class at Vermont Law.
UD applicants to the master's program must have a GPA of 3.0 or higher and two letters of recommendation from UD faculty.
Vermont Law, located in Royalton, is home to the Environmental Law Center, which is described as "the largest and deepest environmental program of any law school."
UD's pioneering research has sustained its long reputation as an institution on the vanguard of energy and environmental science. In photovoltaics, wind power, energy storage, fuel cells, catalysts and composites, breakthroughs by its researchers have received global attention. 
UD is committed to producing the nation's next generation of environmental leaders, and has developed and refined interdisciplinary undergraduate majors in environmental science, environmental studies, and energy and environmental policy, which has both undergraduate and master's and doctoral programs.
Photo by Lane McLaughlin