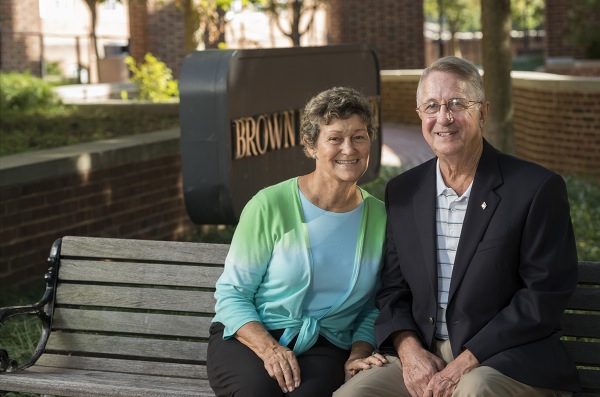 Gores endow chair
Bob and Jane Gore donate $3 million for faculty chair in Department of Chemical and Biomolecular Engineering
9:24 a.m., Oct. 7, 2014--Bob Gore, a 1959 graduate and 2010 honorary doctor of science recipient, and his wife, Jane, have contributed $3 million to establish an endowed faculty chair in the University of Delaware Department of Chemical and Biomolecular Engineering.
The Bob and Jane Gore Centennial Chair of Chemical and Biomolecular Engineering honors the department's 100th anniversary, which was commemorated with a reunion celebration Sept. 19-21.
'Resilience Engineering'
The University of Delaware's Nii Attoh-Okine recently published a new book with Cambridge University Press, "Resilience Engineering: Models and Analysis."
Reviresco June run
UD ROTC cadets will run from New York City to Miami this month to raise awareness about veterans' affairs.
The Gores' gift addresses a need that is a top priority for the department and the entire University.
"Students coming to UD to study chemical or biomolecular engineering expect to learn from the best. It is a reputation we have earned over the last century, through the actions and teaching of chemical engineering legends such as Allan Colburn and Robert Pigford," says Babatunde A. Ogunnaike, dean of the College of Engineering and William L. Friend Chaired Professor. 
"Funding to attract and retain top faculty talent is critical to maintaining the College of Engineering's reputation for excellence. I am grateful to the Gores for recognizing the ways in which supporting faculty enhances and improves student success. Their decision to honor the department's centennial by endowing a new faculty chair will have a lasting and positive impact on our students for the next 100 years and beyond."
In the late 1950s, Gore was an undergraduate student in UD's department of chemical engineering. He is arguably one of their most notable alumni. As the former president and current chairman of the board at W.L. Gore & Associates, Gore used his talents as an inventor and entrepreneur to transform his family's company into a global industry leader.
He has also been a consistent and strong supporter of both his alma mater and his former department. In addition to donating millions of dollars in financial support — including a $10 million gift in 2013 to establish the Bob and Jane Gore Research Laboratories in the new Interdisciplinary Science and Engineering Lab — Gore has also given freely of his time, talent and expertise.
Gore serves as a member of the department advisory council, and is an emeritus member of the University's Board of Trustees. Most recently, he served as one of three alumni volunteer co-chairs for the department's Centennial Campaign and was one of the alumni guests who took part in the Centennial Celebrations.
"The department is such a wonderful investment," says Gore. "It's doing great and important things and is already recognized as being one of the very top departments in the country. So I am very pleased that I can encourage them to build on the excellence they have already established. It's a great way to continue a partnership with the department.
"I am hoping that some of my classmates, from way back in my era, have had successful careers and can now find a way to contribute to this campaign."
Photo by Kathy F. Atkinson