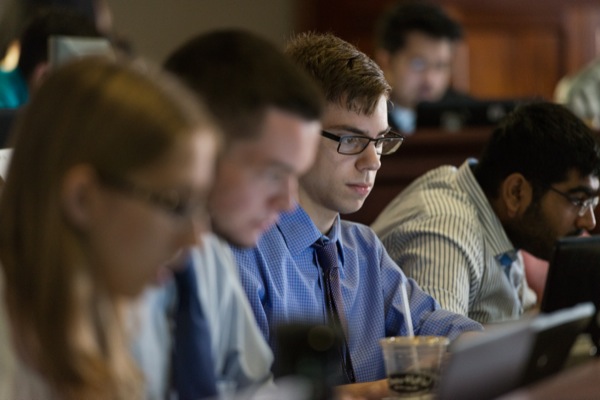 Enhancing national cybersecurity
University to serve on council for federal cybersecurity center
4:09 p.m., Oct. 28, 2014--The University of Delaware is one of nine universities chosen by The MITRE Corporation to serve on the Academic Affiliates Council, formed to support the company's operation of the nation's first federally funded research and development center (FFRDC) solely dedicated to enhancing cybersecurity and protecting national information systems.
Through a competitive process, the U.S. Commerce Department's National Institute of Standards and Technology (NIST) selected MITRE to operate the FFRDC. 
Chronic wounds
UD's Millicent Sullivan and Kristi Kiick have received a $1.4 million grant from the National Institutes of Health for research that could provide a new approach to the treatment of chronic wounds.
Prof. Heck's legacy
The American Chemical Society is highlighting the legacy of the late Nobel laureate Richard Heck, the Willis F. Harrington Professor Emeritus of Chemistry at the University of Delaware with a digital tribute on its publications website.
The FFRDC will support the National Cybersecurity Center of Excellence (NCCoE), which was established in 2012 by NIST, the state of Maryland, and Montgomery County, Maryland, to help businesses secure their data and digital infrastructure by bringing together information security experts from industry, government and academia. 
The NIST news release highlights the initial task orders for this FFRDC. Read more in NIST's news release.
To execute the goals of the newly established FFRDC, MITRE is partnering with the University System of Maryland (USM) and collaborating with other universities, nonprofits and organizations that advocate and perform cybersecurity research to ensure a broad perspective and the best expertise available. 
The University of Delaware is among the universities involved in the new council, including the University of Alabama at Birmingham, George Mason University, Massachusetts Institute of Technology, Purdue University, University of California, Berkeley, University of Illinois, University of Texas at Dallas and University of Texas at San Antonio.
"The University of Delaware is most pleased to collaborate with the MITRE-led FFRDC team," said Starnes Walker, founding director of UD's Cybersecurity Initiative (UDCSI) and professor in the Department of Electrical and Computer Engineering. "To identify innovative solutions to cyber threats, we will draw on the excellence of our expert faculty, staff and students, our working relationships across corporate America — with special emphasis on the banking and financial, chemical, defense and energy sectors — and our deep collaborations with government and academic partners. Through high-quality education and training programs, we are dedicated to creating a cyber-knowledgeable workforce."
The new FFRDC will help to further the NCCoE's goal to accelerate the adoption of secure technologies through public-private collaborations that identify and address today's most pressing cybersecurity challenges. 
"I am proud that the University of Delaware has been selected to advise MITRE in its operation of the NIST Cyber Security Federally Funded Research and Development Center," said U.S. Sen. Tom Carper, chairman of the Senate Committee on Homeland Security and Governmental Affairs. "Businesses rely on a safe and secure Internet, so it is vital that we work together to prevent cyber attacks. As an academic partner in this public-private initiative, UD will bring its ability to perform cyber training and conduct outreach to major corporations and small business alike."
UD's Cybersecurity Initiative (CSI) is developing rapidly, with three new faculty recently joining the cyber group. An advisory council of leaders from the U.S. business community also is being formed to help guide the CSI and provide input into outreach and training programs.
This fall, UD began offering a new 18-credit minor in cybersecurity, allowing students to infuse computer and network security fundamentals into their current degree program. A master's degree program in cybersecurity also is under development and is expected to enroll its first class in September 2015.