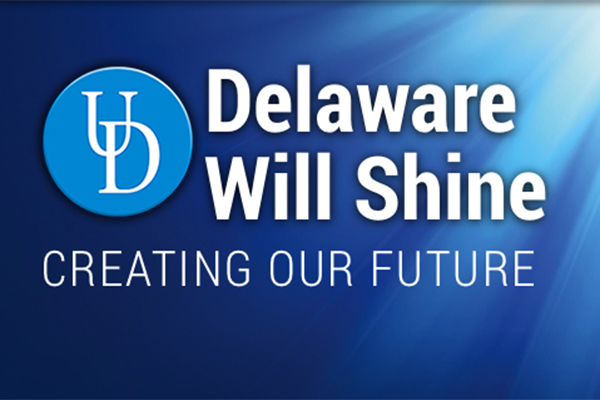 Strategic planning update
Constituent group meetings engage variety of perspectives
1:29 p.m., Nov. 11, 2014--Over the past several weeks, the University of Delaware's strategic planning initiative, "Delaware Will Shine," has held meetings with more than 50 constituent groups on campus and beyond to gather input and to ensure that audiences are aware of the website and how they can participate in the process. 
Members of the executive committee met recently, for example, with such student groups as the Student Government Association, Resident Students Association, and Blue Hen Ambassadors. 
June 6: UDid It! Picnic
All UD faculty and staff members are invited to attend the annual UDid It! employee appreciation picnic, set from 11 a.m.-1:30 p.m., Monday, June 6, on The Green.
2FA protects you
If you are using two-factor authentication (2FA), even if a hacker has your password, your information is probably safe.
Topics discussed ranged from concerns about the cost and timing of Winter Session, to inadequate bike racks on campus, to the need for a readily accessible database to connect undergraduates in all fields to research opportunities. The students encouraged more communication with senior administration to ensure that students feel connected to UD beyond the classroom. They also advocated for more student-centered traditions like the Candlelight Ceremony that engage the student body.
Meetings with the Black Student Union, UD's ADVANCE program, Caucus Leaders, the Institute for Global Studies Board and the English Language Institute yielded discussions on such topics as the need for greater integration of underrepresented minority students and international students into the larger University community, including involvement in UD's recruitment activities so that prospective students see themselves at UD; and strengthened faculty mentoring to improve the recruitment and retention of women faculty and their promotion beyond the associate professor level.
Meetings with the Advisory Council for Exempt Staff (ACES) and the Non-Exempt Staff Advisory Council (NSAC) elicited positive comments on the strategic planning initiative as a "grass roots" participatory process that includes staff on the team versus a "top down" effort, as well as concerns about the demands placed on the lower number of non-exempt staff now, compared to 15 years ago, to support UD's expansion. 
Several groups, including the President's Leadership Council, the Alumni Board and the Parents Fund Council, keyed on the need for students to have both a deep knowledge and familiarity with technology, as well as a liberal arts education that will contribute to well-rounded graduates. Also voiced were needs for increased opportunities for students to work across disciplines and for entrepreneurial experiences, for greater engagement by alumni to ensure that business needs and skills are being met, for programs to strengthen student writing skills and experience with Excel and other business programs, and for the University to foster stronger partnerships with leading corporations and other organizations.
Constituent meetings will continue throughout the fall semester, as well as focus groups led by the sub-groups of the New American Research University working group. Check the calendar on the Announcements page of the Delaware Will Shine website to see the constituent meeting schedule and upcoming events. 
Members of the campus community can share their ideas with the strategic planning team in a variety of ways: provide feedback on planning documents and draft concept papers, contribute to the blog, submit words for word clouds, and nominate external thought leaders who should be invited to campus to speak.