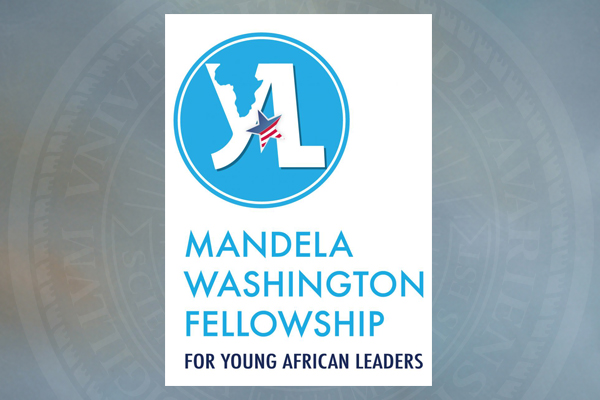 Young African leaders at UD
UD to host Mandela Washington Fellowship for Young African Leaders
2:28 p.m., May 8, 2015--The University of Delaware's Institute for Global Studies has announced that it has been selected for the second year as a Mandela Washington Fellowship for Young African Leaders partner.
Beginning in mid-June, UD will host 25 of Africa's brightest emerging civic leaders for a six-week academic and leadership institute. 
Fulbright awards
Three University of Delaware students and an alumna have received word this spring that they will travel abroad as part of the newest class of Fulbright Student Program award winners.
Peace Corps plans
Two University of Delaware students, John McCarron and Bridgette Spritz, have been selected as Peace Corps volunteers and will serve in Ghana and Rwanda.
The Mandela Washington Fellowship, the flagship program of President Barack Obama's Young African Leaders Initiative (YALI), empowers young African leaders through academic coursework, leadership training, mentoring, networking, professional opportunities and support for activities in their communities.
Fellows are young leaders from sub-Saharan Africa who have a proven record of accomplishment in promoting innovation and positive change in their organizations, institutions or communities.
The cohort hosted by UD will be part of a larger group of 500 Mandela Washington Fellows being hosted across the United States this summer. These exceptional young leaders will meet with Obama during a summit in Washington, D.C., and select fellows will also receive hands-on experience through six-week placements with U.S. companies, organizations, and government agencies.
Working closely with the Department of State's Bureau of Educational and Cultural Affairs and its implementing partner, IREX, host institutions have designed academic programs that will challenge, inspire and empower these inspiring young leaders from Africa.
Some highlights of the UD program will include meetings with Gov. Jack Markell, state legislators, U.S. Sen. Chris Coons, U.S. Rep. John Carney and Nancy Targett, dean of the College of Earth, Ocean, and Environment who has been selected by the Board of Trustees to serve as interim president of UD beginning July 1.
Fellows will connect with and learn from representatives from various units around campus while also taking the opportunity to volunteer and network with organizations throughout the region. In addition, participants will have the opportunity to visit local heritage sites in Dover, Philadelphia, Washington D.C., Baltimore and Rehoboth Beach.
For more information on this year's Mandela Washington Fellowship Program, contact Dan Bottomley, associate director for grants and contracts at the Institute for Global Studies.
The Mandela Washington Fellowship for Young African Leaders is a U.S. government program that is supported in its implementation by IREX.  For more information about the Mandela Washington Fellowship, visit this website and join the conversation with #UDMandelaFellows, #UDYALI, and #YALI2015.