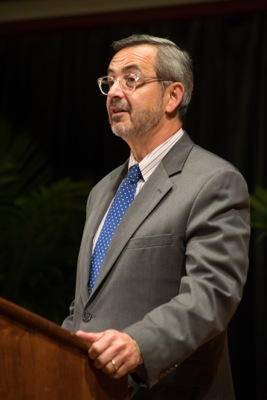 Town hall
Provost Grasso discusses strategic plan, Title IX, other topics
5:43 p.m., March 13, 2015--University of Delaware Provost Domenico Grasso held an open-format, town hall meeting with the campus community on Wednesday evening, March 11, in Gore Recital Hall of the Roselle Center for the Arts. 
With much of the conversation focusing on diversity and inclusion, it served as a timely prelude to a featured lecture given later that day by activist and journalist Laura Ling, who spoke as part of a special, three-day celebration honoring the Women's College centennial and UD women for the past 100 years.
'Resilience Engineering'
The University of Delaware's Nii Attoh-Okine recently published a new book with Cambridge University Press, "Resilience Engineering: Models and Analysis."
Reviresco June run
UD ROTC cadets will run from New York City to Miami this month to raise awareness about veterans' affairs.
All students, faculty and staff were invited to meet with the provost to ask questions, share ideas and learn about the future of UD.
After brief introductory remarks by Grasso, during which he highlighted the University's commitment to excellence, the town hall touched on a variety of topics. Principal among them was diversity and inclusion, to which the provost responded that the University "is experiencing the second largest number of applicants in UD's history, with historic numbers of applicants from underrepresented groups." 
He noted that his office has created two new key positions, the vice provost for diversity and an LGBTQ coordinator to "help us reach greater success," and he said he has asked Vice Provost for Diversity Carol Henderson to "assemble a task force to explore better ways to support our multicultural community." 
Grasso said, "We also want to expand on the excellent work done by the Center for Black Culture — which will remain in place — by looking at a multicultural center extending support to a broader reach of underrepresented groups," including veterans, persons with disabilities, and other racial and ethnic groups.
On the strategic plan
"Delaware Will Shine is in the final stages and, if nothing else, the takeaway should be that we have a relentless commitment to excellence. This a faculty-driven plan, with input from many groups, that will transcend leadership here and take us to many years of success in the future," Grasso explained. 
"Even though it's been a monumental effort to get to this point, the work is about to begin. It also should be noted that this plan was designed to live well beyond any changes in leadership," said Grasso, referencing the recent announcement of President Patrick Harker's departure at the end of June to run the Federal Reserve Bank of Philadelphia. 
Deputy Provost for Research and Scholarship Charlie Riordan added, "Students have been engaged throughout the whole process. We have had direct student participation, and the committee has also used open forums, the website and the Thought Leader Series to keep everyone involved and informed." 
On Title IX and sexual misconduct
Grasso, who took part in a forum on sexual misconduct earlier that day, noted that the University has a dedicated and engaged Title IX coordinator who is working hard to build alliances and put measures in place to address sexual misconduct on campus. 
"Sexual misconduct is something that at every level we are taking seriously. This administration is open to working with anyone interested in being involved to support our efforts," said Grasso. 
"Our team of administrators talks frequently and openly about dealing with and preventing sexual misconduct," as well mental health issues and alcohol abuse," he said. "I can't imagine a more dedicated group of people in dealing with these issues."
Keeping open lines of communication
While the March 11 event was the provost's only planned town hall for the spring, he said he plans to schedule other opportunities to meet with the campus — including informal teas with faculty, students and staff beginning next month — and is open to meeting with interested members of the campus. Previous town halls were held in October and December 2014.
In Grasso's recent letter to the campus community, he noted, "UD is a place where we dare to be first, dare to be bold and dare to shine — where faculty and students work together to help address real-world issues."
For more information, please visit the provost's website.