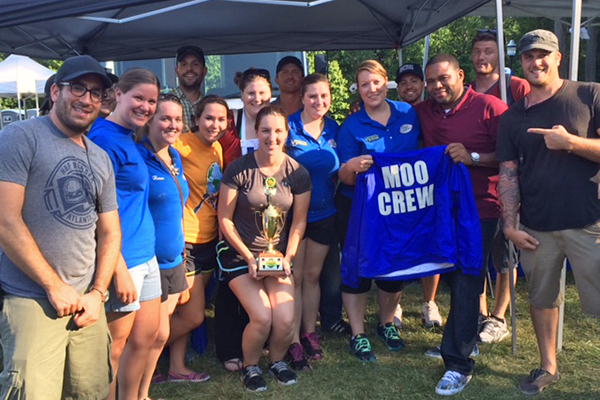 Ice cream fest
UDairy Creamery primed for 2015 New Castle County Ice Cream Festival
8:21 a.m., June 25, 2015--The University of Delaware's UDairy Creamery will defend its 2014 title at the New Castle County Ice Cream Festival, which will be held on Saturday, June 27, from 10 a.m.-7 p.m., and Sunday, June 28, from 10 a.m.-5 p.m. at Rockwood Park in Wilmington.
The creamery took home the title during last year's "Best Sundae on Sunday" competition, besting 10 other creameries with their Rockwood Carnival Cardiac Craze. The flavor featured a funnel cake topped with one scoop of nanner nutter, junk in the tree trunk and caramel corn, then topped with salted caramel, homemade caramel bacon popcorn, candy apple slices and Oreo whipped cream, with a fried Oreo on top that was sprinkled with powdered sugar. 
From graduates, faculty
As it neared time for the processional to open the University of Delaware Commencement ceremonies, graduating students and faculty members shared their feelings about what the event means to them.
Doctoral hooding
It was a day of triumph, cheers and collective relief as more than 160 students from 21 nations participated in the University of Delaware's Doctoral Hooding Convocation held Friday morning on The Green.
This year, UD's defending champs are keeping their entry a secret until it is unveiled on Sunday. The sundae will not be available on Saturday. 
Jennifer Rodammer, supervisor at the UDairy Creamery, said that the staff is feeling the pressure when it comes to entering the competition after winning it all last year but added that it is pressure in a good way. 
"There are going to be some Philadelphia creameries that are going to be there, which is kind of intimidating, but the pressure is there mostly because we had a lot of fun with it last year. It's good pressure and positive encouragement," said Rodammer. 
Rodammer added that she is excited to see if the national exposure the festival received last year from the Food Network adds to the number of people in attendance. 
"We've been there since the beginning when we started four years ago so I'm really curious to see if it's going to be bigger than last year just with the national publicity that it obtained or if it's going to kind of stay around the same," said Rodammer. "Every year it seems like there are new vendors and it's exciting to see that it's expanded into the Philadelphia and Kennett Square areas of Pennsylvania."
One thing that will be different with the UDairy Creamery is that Rodammer and Melinda Litvinas, UDairy Creamery manager, may not be on hand working, choosing instead to allow a student team to take the reins. 
"You'll see at least five students each day and then we might be there just for moral support more than anything else," said Rodammer. 
Caitlin Walton, a 2015 College of Agriculture and Natural Resources graduate, and Josephine Vacchiano, junior in the College of Education and Human Development, who also work as creamery supervisors, will be on hand both days along with other summer creamery employees. 
In addition to the sundae entry, the other flavors that will be available at the festival include: 
Vanilla
Chocolate
Butter Pecan
Delaware River Mud Pie
Mint N Cookies
Strawberry
1st State Cobbler
Watermelon
1923
All Nighter
No Sugar Added Vanilla
Waki Waki (Watermelon Kiwi) Sorbet
Article by Adam Thomas