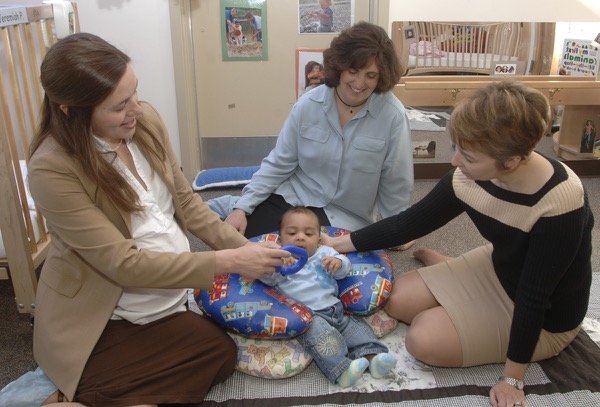 Reaching to learn, learning to reach
Grant will support research on learning intervention for infants with special needs
8:59 a.m., June 9, 2015--For adults, the sit-and-reach test is a simple measure of flexibility and fitness.
For infants, the ability to sit and reach is a critical component of learning and development.
Chronic wounds
UD's Millicent Sullivan and Kristi Kiick have received a $1.4 million grant from the National Institutes of Health for research that could provide a new approach to the treatment of chronic wounds.
Prof. Heck's legacy
The American Chemical Society is highlighting the legacy of the late Nobel laureate Richard Heck, the Willis F. Harrington Professor Emeritus of Chemistry at the University of Delaware with a digital tribute on its publications website.
By simply dropping a toy and picking it up, the baby learns about his own power to make things happen in the world. By touching things, the infant learns that the foam ball is squishy, the plastic rattle is hard, and the cat is soft … and that she gets mad when her fur is pulled.
Children who don't start reaching by four to six months may fall behind their peers cognitively and socially.
Can early intervention for sitting and reaching make a difference? A team of researchers, including two faculty members in the University of Delaware's Department of Physical Therapy, has been awarded a four-year, $3.4 million grant to test the efficacy of an intervention known as START-Play.
Funded by the Institute of Education Sciences, a division of the U.S. Department of Education, the project is led by Regina Harbourne at Duquesne University. UD's Michele Lobo, co-director of the Pediatric Mobility Lab and Design Studio, and Cole Galloway are both key investigators.
START-Play, an acronym for "Sitting Together And Reaching To Play," is an intervention designed to specifically target sitting and reaching to improve problem solving, development and readiness to learn in infants with motor delays or dysfunction. 
Galloway points out that there is limited research examining the efficacy of early physical intervention on infants with neuromotor dysfunction. In addition, most early motor interventions have not been directly linked to learning, despite the research demonstrating an association between motor activity and cognitive skills. 
"START-Play specifically targets motor skills that lead to greater physical exploration, which has been associated with improved problem solving and global development," says Lobo, who specializes in upper-extremity disorders. 
The research will take place in the homes of 140 infants with neuromotor disorders in Pennsylvania, Delaware, Washington, and Virginia.
Using a randomized controlled trial, the team will investigate the impact of the intervention on changes over time in sitting and reaching, subsequent changes in global cognitive development, and the mediating influences of motor skill changes and problem solving.
Article by Diane Kukich