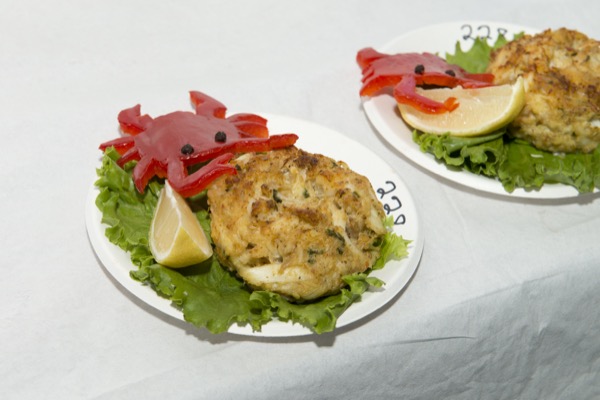 Crab Cake Cook-Off
Recipes sought for annual Coast Day Crab Cake Cook-Off
4:41 p.m., June 9, 2015--Across 25 years and hundreds of recipes, the annual Crab Cake Cook-Off has been a time-honored tradition at the University of Delaware's Coast Day. Participants are invited to submit recipes for this year's competition, and vie for the title of "Delaware's Best Crab Cakes."
Eight finalists will be chosen to prepare their recipes at Coast Day — scheduled for Oct. 4 — where a panel of judges will select the best crab cakes in the state. The winner also will receive a cash prize and a position on next year's judging panel.
From graduates, faculty
As it neared time for the processional to open the University of Delaware Commencement ceremonies, graduating students and faculty members shared their feelings about what the event means to them.
Doctoral hooding
It was a day of triumph, cheers and collective relief as more than 160 students from 21 nations participated in the University of Delaware's Doctoral Hooding Convocation held Friday morning on The Green.
According to Doris Hicks, a seafood specialist with Delaware Sea Grant's Marine Advisory Service, recipes over the years have ranged from classic to kooky.
"Back in 1996, Patrick Lloyd brought a Kamado — a large, egg-shaped grill — to finish off his Apple-Smoked Crab Meat Cakes," Hicks recalled. "He won second place that year, and his recipe was included in the 25th Anniversary Cookbook."
Hicks has reviewed hundreds of recipes since the first cook-off in 1990, from spicy crab cakes made with hot sauce to sweet crab cakes made with fruit glaze. 
On the day of the competition, finalists will be provided with two pounds of jumbo lump blue crab meat. Finalists are responsible for all other ingredients and tools.
The judges' panel will consist of the Coast Day Trivia Contest winner, last year's cook-off winner and a local expert.
Recipes must be submitted by Friday, Aug. 7. Download the contest rules and entry form at the Coast Day website or contact Delaware Sea Grant at 302-645-4297 or dhicks@udel.edu for a printed version.
About Coast Day
The 39th annual Coast Day will be held on Sunday, Oct. 4, at the University of Delaware's Hugh R. Sharp Campus, located at 700 Pilottown Road in Lewes, Delaware. 
Sponsored by Delaware Sea Grant and the University of Delaware College of Earth, Ocean, and Environment, the community event draws thousands each year to participate in fun and educational activities promoting marine stewardship and environmental awareness.
Article by Caren Fitzgerald
Photo by Lane McLaughlin