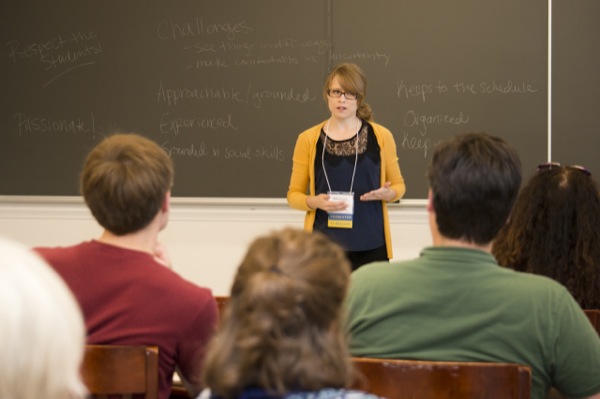 TA Orientation
UD sets orientation for newly appointed graduate teaching assistants Aug. 20
8:28 a.m., July 30, 2014--The University of Delaware will hold orientation for incoming graduate teaching assistants (TAs) on Wednesday, Aug. 20, at the Clayton Hall conference center on the Laird Campus.
The TA Orientation, to be held from 1-4 p.m., introduces newly appointed teaching assistants to their instructional roles, raises awareness of expectations of UD students, models effective teaching practices, facilitates peer mentoring and networking, and offers instructional resources.
June 6: UDid It! Picnic
All UD faculty and staff members are invited to attend the annual UDid It! employee appreciation picnic, set from 11 a.m.-1:30 p.m., Monday, June 6, on The Green.
2FA protects you
If you are using two-factor authentication (2FA), even if a hacker has your password, your information is probably safe.
Sessions will be facilitated by 25 Teaching Assistant Fellows, who are experienced TAs and graduate student instructors. It is expected that about 150 new TAs will participate.
TA Orientation is organized by the Center for Teaching and Assessment of Learning (CTAL) as part of the Office of Graduate and Professional Education's orientation program for incoming graduate students. 
Other services provided to graduate students by CTAL throughout the academic year include courses, workshops and First Friday Roundtables designed to advance the students' pedagogical, academic and professional progress.
Some comments from last year's TA Orientation attendees about what they learned and liked include the following:
"I learned how important it is to have a pre-semester meeting with my professor, so that we can discuss specific expectations and responsibilities. I think that will make the rest of the semester/year a lot easier. Additionally, I hadn't thought of giving students early- and mid-semester evaluation forms, which I think will be useful to enhance my teaching abilities."
"I think that speaking to experienced TAs made me less nervous and more prepared."
"The TA panel was my favorite part because it showed actual problems of incoming TAs and how to be prepared or at least aware, to deal with them."
"Hearing personal stories from TAs who have been here for a while. I think that everyone comes in with similar reservations, and everyone has expectations all over the board; having information from a primary source, someone who has gone through this recently, is very helpful for assuaging concerns and making people feel 'normal.'"
"The importance of a TA and how the University and faculty view TAs. I also learned how important it is to schedule your time carefully and to prioritize."
Photo by Lane McLaughlin