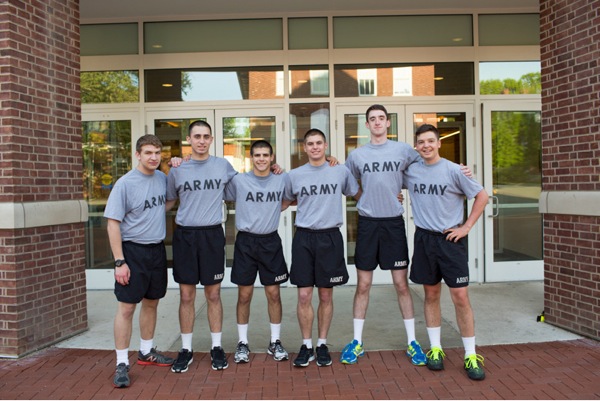 Cadets set run
UD Army ROTC cadets run to bridge gap in military-civilian relations
1:19 p.m., July 24, 2014--Several University of Delaware Army ROTC and U.S. Military Academy cadets have announced that they will run from the UD campus in Newark to Houston, Texas, to raise money to help bridge a gap in military-civilian relations.
The cadets plan to start their two-week, 1,576-mile journey at 8 a.m., Saturday, July 26, at Memorial Hall, according to UD Army ROTC cadet Andrew Major, a civil engineering major.
'Resilience Engineering'
The University of Delaware's Nii Attoh-Okine recently published a new book with Cambridge University Press, "Resilience Engineering: Models and Analysis."
Reviresco June run
UD ROTC cadets will run from New York City to Miami this month to raise awareness about veterans' affairs.
UD Army ROTC is sponsoring the group, Major said, adding, "I'm really glad to be involved in this project with my fellow hardworking cadets while helping our veterans and society."
On hand for the Saturday morning send-off will be State Sen. Bryan Townsend and members of the Delaware Patriot Guard Riders, who will escort the cadets on the first leg of the run.
The cadets are participating in the fund-raising effort through their nonprofit running group Reviresco, which they created to bridge the gap in civilian-military relations by educating and empowering members of society to understand their roles in helping veterans.
The Reviresco team includes Major, Matt Rojas, Micah Petersen, David Dinerman, Joe Erony, Todd Thorp, Kyle Sullivan and Alex Chiodo.
"Over the past several decades, as the percentage of the population who serve has diminished, the bond of understanding between civilian and military personnel has widened," the team wrote. "While there are numerous organizations that assist soldiers in reintegrating back into society, we believe that there is a large need to educate the civilian side on their role in lessening this divide. The majority of Americans love to support our troops any way they can, however, exactly how they can do so is an issue that needs to be addressed, and that is why we founded Reviresco," which is a Latin word meaning to become renewed.
Houston was selected as the destination because of the large number of veterans who retire there, they said, with Delaware the starting point as the First State and thus the first official United States entity to be protected by the military.
For more on the team, which hopes to raise $50,000, see the Facebook page.