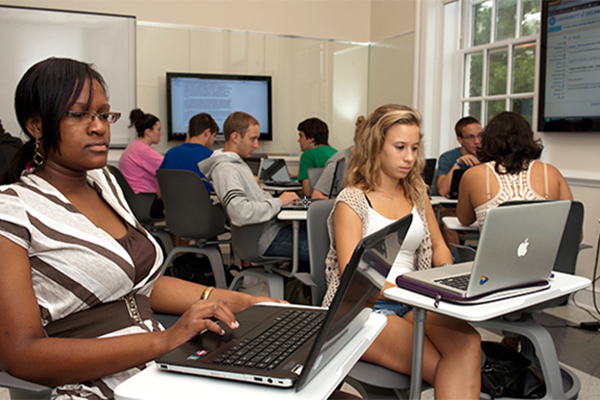 General Education Task Force appointed
Faculty-driven self-study to examine UD's general education goals
8:27 a.m., July 14, 2014--Faculty and staff from across the University of Delaware have been appointed to a General Education Task Force that will examine the University's core goals in undergraduate education. 
"The University of Delaware's general education goals provide a unique foundation from which our students have the opportunity to develop their potential and prepare for a world that will be even more diverse, technologically advanced and globally connected than today," said Provost Domenico Grasso. 
June 6: UDid It! Picnic
All UD faculty and staff members are invited to attend the annual UDid It! employee appreciation picnic, set from 11 a.m.-1:30 p.m., Monday, June 6, on The Green.
2FA protects you
If you are using two-factor authentication (2FA), even if a hacker has your password, your information is probably safe.
"As the University moves forward in developing a new strategic plan, the task force will play a critical role in our process of self-examination. During this time of reflection and exploration, we must ask ourselves what we want our students to get from a UD education, ensuring that our goals are on the mark in expanding the intellectual development and horizons of our students, preparing them well to take on the challenges of the future," Grasso noted.
UD's current "General Education Goals to Success" range from attaining effective skills in oral and written communication, quantitative reasoning and the use of information technology, to developing an international perspective in order to live and work in an increasingly global society.
Students gain skills and knowledge to attain these goals through their participation in such activities as the First Year Seminar, Discovery Learning Experiences, Capstone Experiences and academic coursework in four breadth areas, including the creative arts and humanities, history and cultural change, social and behavioral sciences, mathematics, natural sciences and technology.
"This is an opportunity for UD faculty to more clearly define what it means to be educated here at the University of Delaware — how a UD education provides students with critical skills and knowledge for their future success, yet is distinctive from what other universities offer," said Deputy Provost Nancy Brickhouse.
Brickhouse said the timing of the self-study aligns well with the University's Strategic Planning Initiative (SPI), which launched earlier this year. The SPI's three working groups include a number of members of both the task force and the faculty senate committee on general education. 
Additionally, changes to the general education goals will be incorporated in the Periodic Review Report due to the Middle States Commission on Higher Education in 2016.  
This summer, the General Education Task Force's core working group, led by John Pelesko, professor and chair of the Department of Mathematical Sciences, is laying the groundwork for a constructive conversation about general education with the full campus community. 
The task force will make its recommendations to the University Faculty Senate General Education Committee for consideration during the fall semester. The committee is chaired by Norman Wagner, Alvin B. and Julia O. Stiles Professor of Chemical and Biomolecular Engineering.
General Education Task Force 
Core Working Group:
John Pelesko, Mathematical Sciences, chair
Joseph Harris, English
Kathleen Kerr, Residence Life and Housing
Kelvin Lee, Chemical and Biomolecular Engineering
Eric Rise, Sociology and Criminal Justice
Steering Committee:
Deborah Allen, Biological Sciences
Stephen Bernhardt, English
Nicole Donofrio, Plant and Soil Sciences
Lesa Griffiths, Animal and Food Sciences
Steve Hastings, Applied Economics and Statistics
Michal Herzenstein, Business Administration
John Jungck, Biological Sciences 
Sue McGeary, Geological Sciences
Frank Newton, Earth, Ocean, and Environment
Bob Opila, Materials Science
Cindy Shenkle, Arts and Sciences
Bahira Trask, Human Development and Family Studies
University Faculty Senate General Education Committee
Norman Wagner, Chemical and Biomolecular Engineering, chair
Avron Abraham, Academic Enrichment Center
Erin Brannick, Animal and Food Sciences
Iain Crawford, Undergraduate Research and Experiential Learning
Meryl Gardner, Business Administration
John Gizis, Physics and Astronomy
Christopher Knight, Kinesiology and Applied Physiology
Bernard McKenna, English
Kathleen Pusecker, Office of Educational Assessment
April Veness, Geography
Lynn Worden, Human Development and Family Studies