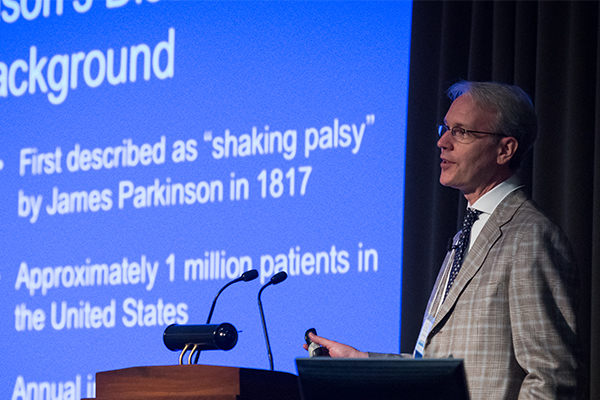 GCMAS conference
Clinicians, engineers, scientists converge on UD campus for annual meeting
2:09 p.m., July 1, 2014--More than 200 clinicians, engineers, scientists, and students turned out for the 19th annual meeting of the Gait and Clinical Movement Analysis Society (GCMAS), held at the University of Delaware from June 24-27. 
The meeting was chaired by Jim Richards, Distinguished Professor of Kinesiology and Applied Physiology at UD, and co-hosted by UD and Nemours/A.I. duPont Hospital for Children.
From graduates, faculty
As it neared time for the processional to open the University of Delaware Commencement ceremonies, graduating students and faculty members shared their feelings about what the event means to them.
Doctoral hooding
It was a day of triumph, cheers and collective relief as more than 160 students from 21 nations participated in the University of Delaware's Doctoral Hooding Convocation held Friday morning on The Green.
The program reflected the expertise and interests of GCMAS, which comprises physicians, allied health professionals, engineers, biomechanists, and scientists working together to advance scientific knowledge, technical capabilities, and clinical practice in the field of human movement.
Keynote talks addressed emerging technology applications, upper extremity analyses, and Parkinson's disease.
High-tech health
In the first keynote, Dr. Ravi Komatireddy discussed the potential to use mobile and wireless technology to gather clinically significant motion measurements outside traditional laboratory and clinical settings. 
Komatireddy, chief medical officer of two funded health care technology startups in California and clinical assistant professor of medicine at the University of California, San Diego, is currently involved in several clinical trials testing mobile health technologies for cardiac disease and wireless chronic disease monitoring.
"With accelerometers, gyros, cameras, and clever algorithms built into commonly available, affordable devices, we have an amazing opportunity to get clinically relevant motion data about disease and disability from patients in the real world," he said. 
Komatireddy highlighted opportunities and challenges with these emerging technologies and surveyed research that has already been done in this area.
Improving quality of life for kids
Scott Kozin, chief of staff at Philadelphia Shriners Hospital for Children and professor of orthopedic surgery at Temple University, shared his experiences in caring for children with brachial plexus injury, spinal cord injury, and congenital diagnoses. 
Kozin is currently collaborating with Richards at UD on applying motion analysis technology to guide the treatment of brachial plexus injury. "Motion capture today can do more and more, and it takes less and less time," he said. 
His wish list for the future? "Better measurement, better outcome assessment, and better patient care," he said. "I would love it if motion capture and modeling could tell us 'if we put the tendon here, this is what's going to happen.' The ability to predict is what we need most."
Helping people with Parkinson's
Dr. Daniel Kremens, assistant professor of neurology and co-director of the Parkinson's Disease and Movement Disorders Center at Sidney Kimmel Medical College of Thomas Jefferson University in Philadelphia, provided an introduction to Parkinson's disease.
More than a million Americans suffer from this disease, which is characterized by a wide range of motor and non-motor symptoms, including tremor, rigidity, postural instability, sleep disturbances, pain, depression, anxiety, and apathy. 
Kremens discussed treatment options, which range from drugs and deep brain stimulation to occupational, physical, and speech therapy. Emerging therapies include novel delivery systems that would make existing medications more effective and better tolerated. Exercise has also been shown to have positive effects.
Anecdotal evidence and some studies have suggested that people with Parkinson's may be able to tap into some alternative pathways within the brain to perform certain tasks such as bicycling and dancing better than would be expected based on their symptoms.  "There may be some cueing involved with music, pedaling, and vibration," he said, with the latter alluding to the PD Shoe created by a UD team led by Ingrid Pretzer-Aboff, associate professor in the School of Nursing.
Kremens said that the Parkinson's medical community approaches gait analysis qualitatively — e.g., through measures on various ranking scales — while the gait analysis community approaches it quantitatively using complex equations.
"Quantitative gait assessment may provide valuable information that we can use to improve diagnosis and develop better therapies, but challenges exist to its widespread adoption, especially in clinical settings," he said. 
Podium sessions, poster sessions, case studies, workshops, and tutorials addressed a broad range of topics, including gait analysis, data methods, upper extremity analysis, orthopedics, and ankle and foot function. The program also included a student career symposium.
This year marked the first time the organization chose an academic rather than hotel-based conference venue. 
"The Delaware campus is ideally suited to host our meeting given the local focus, which includes six motion capture facilities," said GCMAS President Bruce MacWilliams.
Article by Diane Kukich
Photo by Kathy F. Atkinson