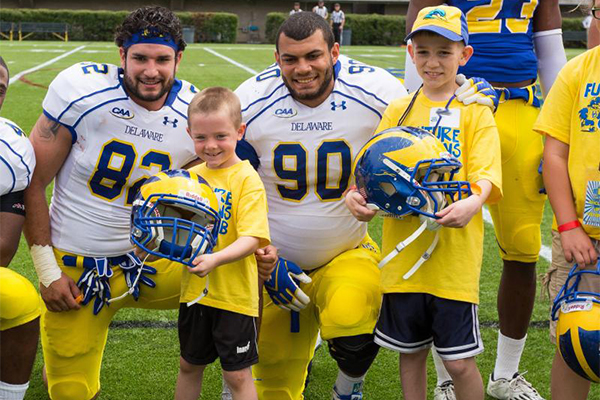 Future Hens Club
Membership registration being accepted for 2014-15 Future Hens Club
12:56 p.m., July 17, 2014--University of Delaware Athletics has announced that Future Hens Club membership registration for the 2014-15 season is now open.
Membership is open all Blue Hens ages 12 and younger.
Rower honored
University of Delaware junior Claire Brown has been named second team Collegiate Rowing Coaches Association All-Region.
Unsung Hero
The One Love Foundation has announced that University of Delaware men's lacrosse standout Elijah Conte has been selected as a winner of the 2016 YRL Unsung Hero Award.
Those who register now will receive members-only items, including:
Official Future Hens Club membership card and member T-shirt.
Free admission to select regular season home games/matches for football, volleyball, women's basketball and men's basketball.
Free admission to all regular season home games for field hockey, men's soccer, women's soccer, men's ice hockey, men's lacrosse, women's lacrosse, baseball and softball. Future Hens Club membership card required for admission.
A welcome bag full of goodies.
Invitations to free Future Hens Club events exclusively for members.
A birthday card from UD's favorite mascot YoUDee.
Additional surprises.
Membership runs from August 2014 through May 2015 and is $30. Discounted memberships are available at a rate of $20 for children of University of Delaware Athletic Fund members, UD employees and UD alumni. Additional sibling membership is just $10 per youth.
Click here to register.