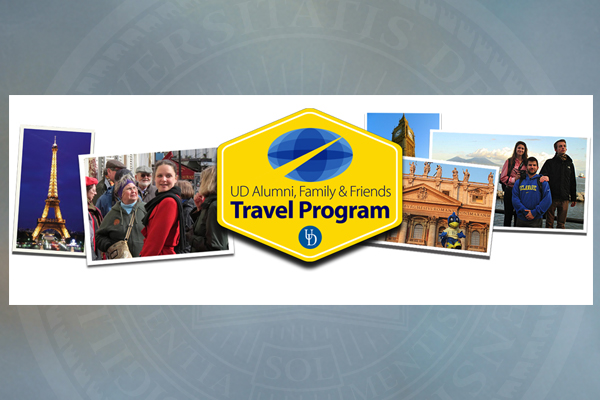 Alumni, family, friends travel
IGS offers three exclusive travel programs to Europe next spring
8:18 a.m., July 22, 2014--Members of the University of Delaware campus community are being offered travel opportunities in which they can tour the Coliseum and explore the ruins of Pompeii, take a cooking class in Tuscany and relax at beautiful vineyards, and master the Metro and dine atop the Eiffel Tower.
The University's Institute for Global Studies (IGS) will host three different trips to Europe during spring 2015 as part of the UD Alumni, Family and Friends Travel Program.
Fulbright awards
Three University of Delaware students and an alumna have received word this spring that they will travel abroad as part of the newest class of Fulbright Student Program award winners.
Peace Corps plans
Two University of Delaware students, John McCarron and Bridgette Spritz, have been selected as Peace Corps volunteers and will serve in Ghana and Rwanda.
Travelers can embark on a journey at the end of March with fellow Blue Hens to Europe, where they can create unforgettable memories in cities that are rated among the top five to visit.
Options in 2015 include:
Each program departs from the Philadelphia International Airport and is priced at $2,950 per person. Included in this price are round-trip flights, airport-to-hotel transfers, hotel accommodations with full breakfast and Internet access, an exclusive opening dinner, site-specific excursions, free time to explore on one's own, and a celebratory closing dinner with the group.
"IGS is excited to offer alumni rewarding experiences abroad modeled off of the values and traditions of international education and global citizenship of the study abroad programs for students," said Amy Johnson, IGS deputy director and program coordinator. "This year's successful trips to Paris inspired us to offer a variety of programs for next year which will include fun and unique opportunities reflective of the region."
Pleasure in Paris 
Participants praised the inaugural spring break trips to Paris. The "amazing experience" helped some rethink the idea of group travel. 
Perhaps the greatest compliment of the travel program to Paris came from a participant who appreciated the opportunity to engage with other alumni -- more than 60 percent of program participants were UD alumni. "Thank you for organizing this program for UD folks! In addition to the fun time, it also gave us a chance to meet some other Delawareans, with UD in common, that will likely remain longtime friends."
Book now
UD alumni and all members of the University community are encouraged to take advantage of IGS travel opportunities next year. As programs filled early for Paris 2014, interested parties are encouraged to explore options and reserve their spots as soon as possible.
Stay tuned for more information about a 2015 summer program to Peru coming soon.
About the Institute for Global Studies
The Institute for Global Studies was created in 2009 to enhance the international dimensions of teaching, research and outreach at the University of Delaware. IGS provides leadership and support for programs and experiences that contribute to the education of informed, skilled, open-minded citizens of the world.
Best known for coordinating the University's study abroad program, IGS also awards scholarships and grants to faculty and students for myriad global opportunities, administers internationally-recognized programs such as the MEPI (Middle East Partnership Initiative) Student Leaders Institute, and sponsors such signature events as International Education Week each fall and country-specific celebrations each spring.
IGS collaborates with other global partners on campus, including the Office for International Students and Scholars, the Confucius Institute and the Center for Global and Area Studies.
Article by Elizabeth Adams